Andrea Marechal Watson rounds up a selection of winter wonders in the art world
Unlocking art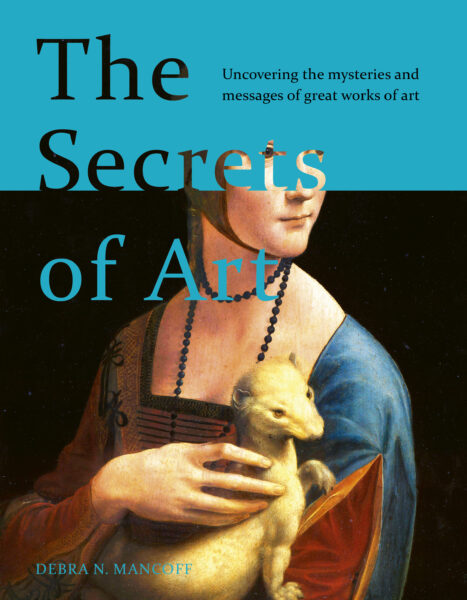 Lavishly illustrated, The Secrets of Art by Debra Mancoff, uncovers mysteries and messages underlying some of the world's best know works of art. Mantoff's erudite but highly readable texts unlock these stories using many close up details. Leonardo's famous Lady with an Ermine (front cover) is renowned but who knew that the ermine – often used to represent purity – was a later addition by the artist? Recent scientific analysis shows that originally da Vinci's portrait contained no animal at all. Then he added a grey stoat-like creature which eventually morphed into the white ermine we know today. In chapter after chapter Mantoff entertains us with such anecdotes covering subjects ranging from censorship and secret symbols to hidden identities, destroyed masterpieces and the politics of painting. It's not often a book on art history could be called a page turner – this one is.
The Secrets of Art by D. Mancoff, published by Frances Lincoln.
2. Private passions in Paris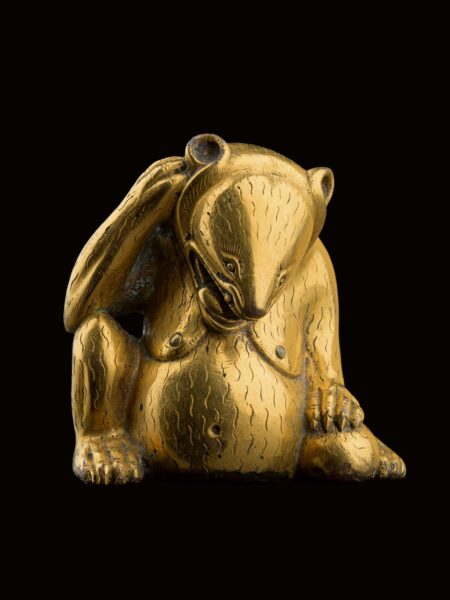 Bear Artist unknown, China; Western Han Dynasty, 206 BC-AD 25, Gilt bronze Collection Al Thani
New Year revellers in Paris are spoiled for choice when it comes to fresh exhibitions. First stop should be the Hôtel de la Marine (not somewhere you can reserve a room!) a palatial 18th century building on the Place de la Concorde which has now been extensively overhauled. The interiors have been magnificently restored thanks to Sheikh Hamad bin Abdullah al Thani who has also lent part of his extraordinary art collection to it. This super wealthy cousin of the Emir of Qatar has been able to buy the best of the best and though the exhibition is small, filling just three rooms, it is stunning with exquisite ancient items such as a golden Chinese bear and Anatolian stargazer, a gallery of portraits drawn across the centuries and cultures and a stellar collection of Islamic manuscripts, ceramics and metalwork.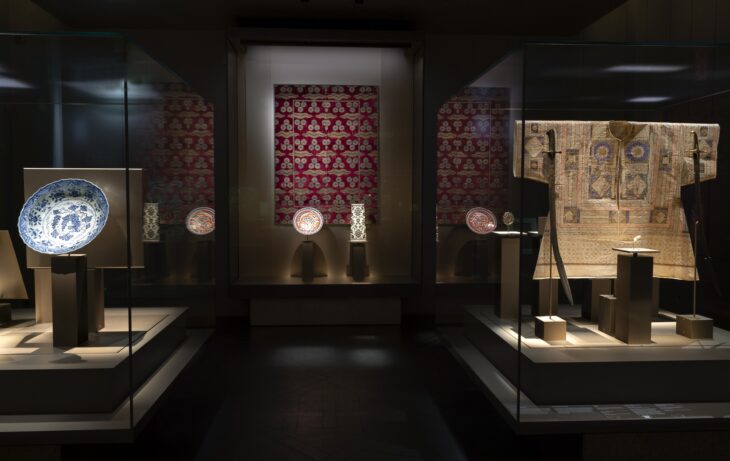 While in Paris, do not miss the last weeks of the Morozov Collection at the new Fondation Louis Vuitton, in the Bois de Boulogne, where the luxury goods mogul has built a magnificent private museum.
Few people are aware that some of the largest collections of Impressionist and post Impressionist paintings are in Russia, where wealthy merchants like the Morosov brothers Mikhail and Ivan began collecting Renoir, Cezanne, Matisse, Gauguin and Picasso some time before their names were established in Europe and America. The collection was seized in 1918 by the Bolsheviks and is now distributed between three museums. This is its first trip beyond Russian borders.
Another luxury goods mogul who has opened a private museum in Paris is Francois Pinot, (net worth 46bn) founder of Kering and owner of Christie's. He has placed part of his private collection of contemporary art in the Bourse du Commerce – a former grain exchange building which has been beautifully restored by the Japanese architect Tadao Ando – where it will be on permanent show.
The Al Thani collection is on loan to the Hôtel de la Marine for 20 years.
The Morosov Collection at Fondation Louis Vuitton runs until 22nd February 2022.
3 Tate's (non-identical) twins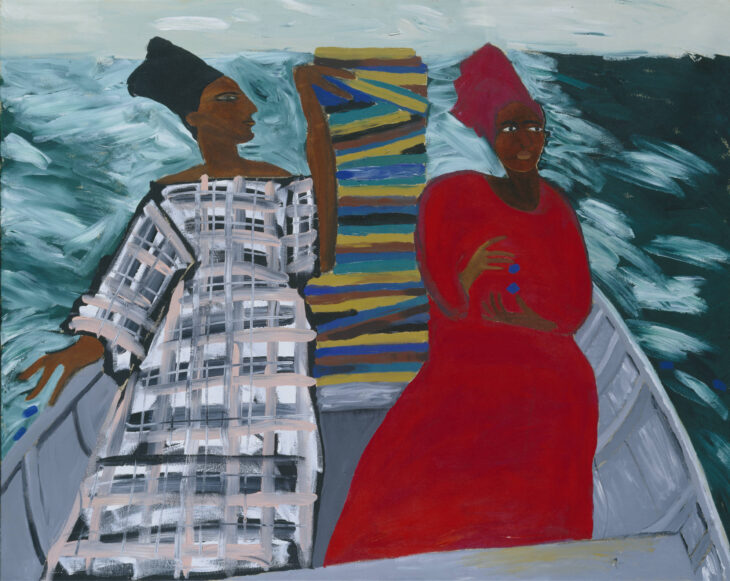 Lubaina Himid Between the Two My Heart is Balanced 1991 Acrylic on canvas
It's hard to know whether to start at Tate Modern for the Lubaina Himid solo exhibition or at Tate Britain for Life Between Islands which explores artists who came to the UK in the 1950s as part of the Windrush generation as well as artists influenced by the heritage of the West Indies. Either way, these two major exhibitions shine a light on a hitherto overlooked collection of black artists who have one way and another transformed post War British culture and society.
The landmark exhibition, Life Between Islands, connects 40 artists with works of photography, sculpture, portraiture, drawing, painting, video and other installations. The continuing resonance of colonial history is a powerful recurring theme. Artists represented include Frank Bowling, Peter Doig, Chris Ofili and Aubrey Williams alongside many less well known names. Among the subjects covered in photographic panels are the rise of Black Power and the Black Arts Movement and London's' grime scene. The sense of apartness and separation from homelands is often present in the works. While graphic reminders of the slave trade are thankfully few, this show inevitably leaves one with a sense of disquiet.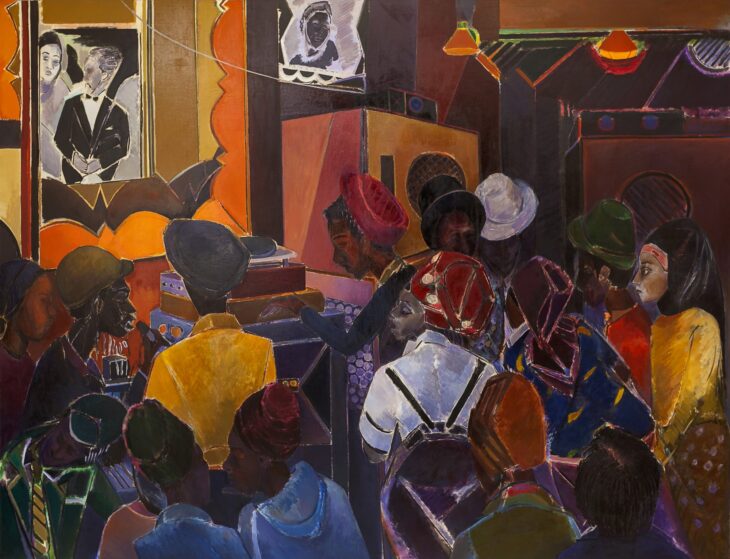 Denzil Forrester Jah Shaka 1983.Collection Shane Akeroyd, London © Denzil Forrester
Tate Modern's Lubaina Himid celebrates the life of this 67-year-old Turner Prize winning artist and curator. Born in Zanzibar, Himid came to the UK when she was just a baby after her father's early death. An early member of the Black Arts Movement, her work was largely overlooked until 2017 when she won the Turner Prize and was projected onto the world stage.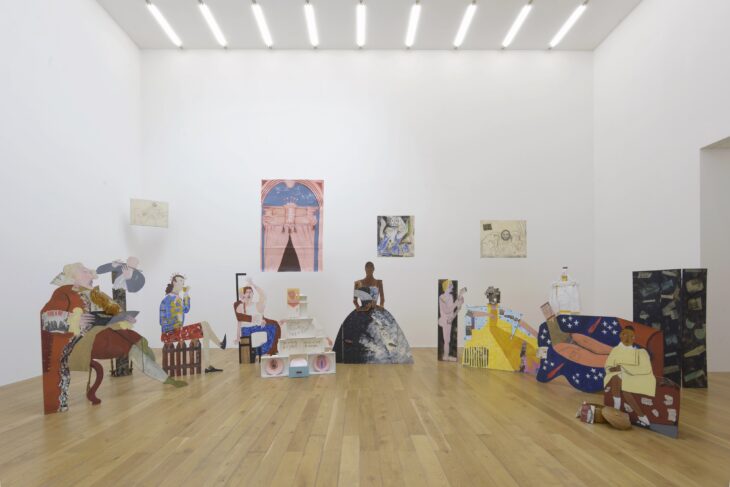 This long overdue solo show spans Himid's long career and includes new paintings made in lockdown and several sound installations including Old Boat/New Money a minimalist 'boat' made from wooden spars with a soundtrack of waves. Motion is at the heart of much of Himid's work which often circles back to her native island Zanzibar and that early separation and in this respect many exhibits mirror themes that are explored in Life Between Islands.
There's also a lot of theatre in this show and surprising references to European art history. One of Himid's most sassy works, A Fashionable Marriage,(above) is a room full of life size cut out figures inspired by the 18th century satirist Hogarth's series of paintings of an arranged marriage. Another work (pictured) showing two woman in a boat is a riff on a painting by the 19th century French painter Tissot. Himid has said she was "trying to write herself…. into the history of British painting" and she has certainly done that.
Himid at Tate Modern until July 3rd 2022
Between the Islands at Tate Britain until 3rd April 2022
4. Inspiring Disney
A groundbreaking show at the Met in New York marking the 30th anniversary of Beauty and the Beast in cinemas explores Walt Disney's quirky fascination with the style called Rococo. This short lived fascination for extreme ornamentation was also well suited to the theatre where it has found an enduring home.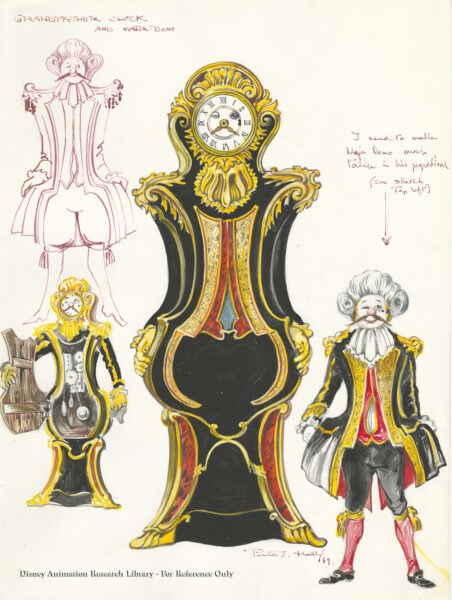 Peter J. Hall Concept art Beauty and the Beast, 1991 Watercolor, marker and graphite on paper Walt Disney Animation Research Library
Disney, who visited France in the 1930s and was much feted, brought back volumes of illustrated books and designs that he gave to the animators in his studios as reference material.
So we find that The Swing by Fragonard pops up in Beauty and the Beast (above) and here and there everything from medieval tapestries to Boulle clocks and Sèvres porcelains were used as source material by the artists not only for the films but the theme parks.(below)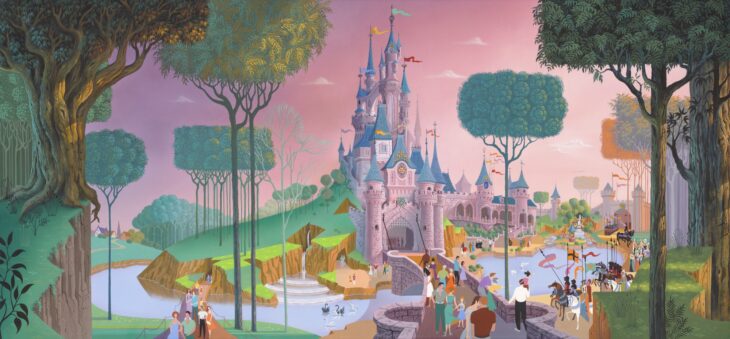 Curator Wolf Burchard, who has been working on the show for years says: "The shared aim of the workshops of Bourbon France and Disney studios was to produce works that were a bit of fun". Met director Max Hollein adds: "A big part of America looked at French decorative arts first and foremost through Disney."
Until 6th March at the Metropolitan Museum of Art, New York, USA
5. Painting Apart from the World.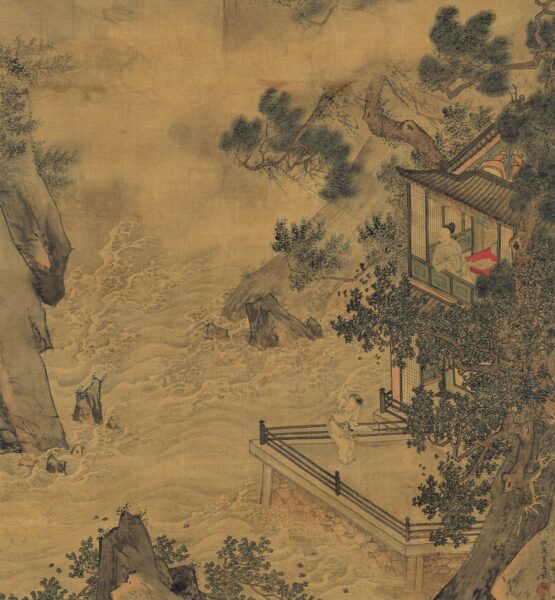 The Cernuschi Museum in Paris has secured more that 100 classical Chinese paintings from the Ming and Qing dynasties, showing in Europe for the first time.
The collection was assembled by Ho Lu Kwong and donated to the Hong Kong museum on his death in 2006.
The works were created over three centuries at a time of great upheaval in China when artists and sages retreated to the forests and mountains – hence the title of the show Painting Apart from the World.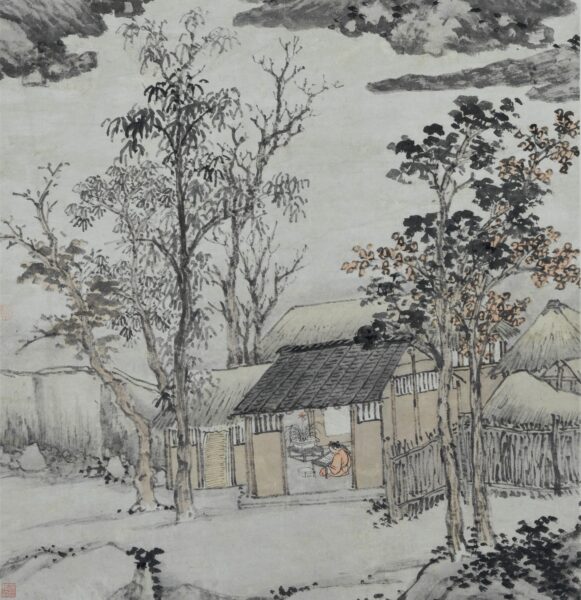 Shen Zhou The Young Qian Reading (Le jeune Qian lisant (detail), 1483. Hong Kong Museum of Art
The collapse of the Ming dynasty and the Manchus' conquest of the empire were deeply traumatic. The capture of Beijing in 1644 and the founding of a new dynasty were followed by 40 years of armed resistance. In this climate, many refused to serve the new Qing dynasty and isolated themselves in the mountains. Renouncing their careers as civil servants and hiding their identities, some became monks. This was the case for painters Shitao (1642–1707) and Badashanren (1626–1705), members of the deposed Imperial family, who made temples their refuge and mountains their source of inspiration.
Landscapes were already a well established genre having played an important part in the story of Chinese painting since the Song dynasty (960–1279). In the midst of lives often dedicated to bureaucracy and toil, gardens were seen as corners of nature where the quest for wisdom resided. And in the form of vast landscapes that unfold over long scrolls, dream journeys were described by these masterful artists.
Until 6th March 2022 at the Cernuschi Museum, Paris France
6 The long arm of Lindisfarne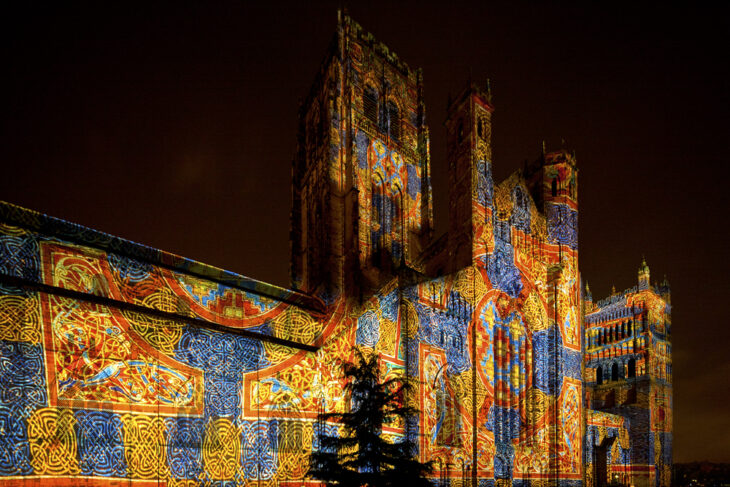 Starting January a series of art events inspired by the Lindisfarne Gospels will herald their display this autumn at the Laing Art Gallery. Multiple venues will host events that capture aspects of the 1300-year-old manuscript's enduring appeal which is on loan from the British Museum. Artists Ryan Gander and Monster Chetwynd will display new works in glass while a flock of 40 life size illuminated sheep will appear across the Northumberland landscape while two new venues, the Faith Museum in Bishop Auckland and Ad Gefrin in Woolerand, will also open to celebrate the year long cultural feast.