Christie's Laugh now but one day we'll be in charge by Banksy is the star of an online auction until 15 March 2022. The title refers to Banksy's Laugh Now screenprint and the sale features works by Banksy as well as editions by contemporary artists such as Stik.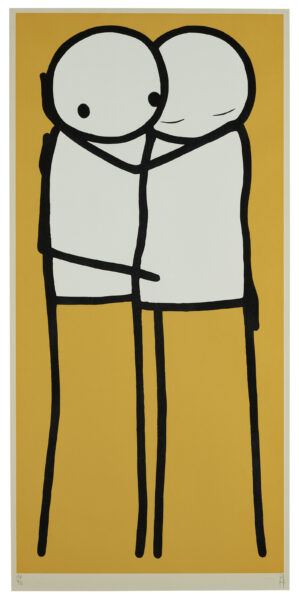 Banksy's Morons, also in the sale, could fetch £70,000. The work refers to a photo of the record-breaking sale of Vincent van Gogh's Sunflowers at Christie's in 1987, with Van Gogh's canvas replaced by Banksy's text. Choose your Weapon and Girl with Balloon are other highlights of the auction – the latter estimated at £300,000-500,000.
Prints and screen prints by Banksy are not hard to acquire – the same cannot be said for his murals which have frequently been at the centre of bitter disputes over ownership.
Graffitti, for decades dismissed as vandalism, is now the target of a £multi-billion art market with high end art fairs and galleries such as Pure Evil and Stolen Space selling works by the likes of Ben Eine, D'Face, JR and Stik.
Bristol-born Bansky is the most famous of all of them. One of his best known works, Girl with a Balloon is among the many works by the artist that have been removed from the street and sold, in some cases for millions.
Owners of building who have tried to sell works that have appeared on their walls overnight – notably those of Banksy – pose the challenge of who owns street art. Does a property owner merely own the bricks and mortar or the image as well?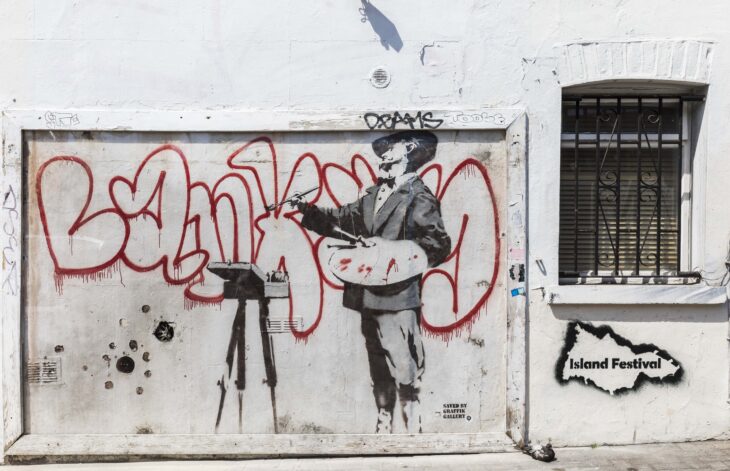 Stephan Keszler, a Southampton based dealer, argues that as they are done on other people's property without permission, the owners "can do whatever they want with it" but street artists generally dispute this claim. There have been a lot of cases where graffiti artists have sued: among others McDonald's, Audi and Cavalli have all been at the centre of litigation.
Another paradox in this burgeoning new economy is that street art is no longer safe on the street. In 2003 a stencil called Slave Labour showing a child making Union Jack flag bunting was removed from the wall of a Poundland and shipped to Florida for sale. The resulting outcry at this 'theft of people's art' , including a campaign by Haringey Council, scuppered the sale but it appeared soon after in London and was sold to an anonymous buyer.
A rash of similar cases led to the creation of Pest Control, a body that authenticates all of Banksy's works, an act of 'sabotage' that has killed the market for Banksy wall art. Today the major auction houses refuse to sell Banksy works from the street.
Karim Samuels, a street art expert and guide for London Street Art Tours, calls graffiti art lots of things – a hobby, a RP stunt, a performance, a spell making process. "It used to be vandalism but the art has matured," he says. "If you paint nowadays, you can either end up in jail or be offered a space in an art gallery."
There will always be a hard core of graffiti artists who regard street art as a sellout but the many paradoxes will be lost on the vast majority of people who fall under its mysterious spell.