Hever Castle's 500 year old disaster
A recreation of the Château Vert pageant, at which Anne Boleyn made her English court debut exactly 500 years ago, inspires Hever Castle's summer schedule. The traditional pageant, staged on Shrove Tuesday 1522, was the first time that King Henry VIII laid eyes on the ill-fated Boleyn girl and the rest, as they say, is history. Anne was born and grew up at Hever in Kent, and it was here that her ambitious father Thomas plotted his entry into royal circles using his two daughters as bait. Set in wonderful grounds, complete with maze, Italianate walk, and lake with distant vistas, the castle's new exhibition is the perfect place to absorb the rise of the Boleyn family and tragic events which followed Anne's disastrous marriage.
Visionary Outsider Jean Dubuffet
Ardent Celebration: Jean Dubuffet
Born in Le Havre in 1901, Jean Dubuffet spent his youth working in his family's wine business after dropping out of art school. It was not until 1942, while living in Nazi-occupied Paris, that the 41-year-old decided after all to devote himself to art of a very different nature to the teachings he had rebelled against. The works he made in the ensuing years were a direct challenge to existing ideals of beauty, skill, and art's elevated status. He adopted crude materials and subjects and tried every available medium: painting, drawing, collage, lithography, sculpture and even performance. He used radical materials and additives like lime, cement, or sand to thicken his oil paint and create textured, complex surfaces. He used found objects like rocks, rope, and foil and loved to depict overlooked objects, dilapidated walls, rustic doors, soil, and rocks.
In all these experiments, Dubuffet was building the blocks of contemporary art. He also anticipated Outsider Art – a genre now widely admired and collected. As a young man Dubuffet had discovered the visionary artist Clémentine Ripoche and read the extraordinary novel work by Dr. Hanz Prinzhorn, Artistry of the Mentally Ill. The encounters were to lead to a lifelong obsession with the art of psychics, children, and the mentally ill. Dubuffet would later refer to this school as Art Brut or Raw Art.
Spanning three decades of Dubuffet's work, this is a chance to enrich our knowledge of the artist who became trapped by his own obsession, the Hourloupe Cycle, which has become his signature style.
From February 25th to August 21st at the Guggenheim Museum, Bilbao, Spain
Travel in the time of plague
"I believe it was in my stars that I got a raw deal in life," the 16th century German artist Albrecht Dürer complained from Italy. "Here I am a lord, at home I am a parasite."
Ironically, back in his home town of Nuremberg his wife and mother were doing a roaring trade in his etchings. But Dürer it seems was never easily satisfied – he was both a genius and thoroughly mercenary. He eventually gave up almost all oil painting because it took too long and he could make more money selling prints.
Dürer satisfied his deeply restless nature as many do – by travelling. Even frequent outbreaks of plague did not stop him. His trips through the Alps, Italy, Venice and the Netherlands form the storyline for the National Gallery's exhibition.
Dürer kept meticulous journals recording not only his encounters with the great Venetian artist Bellini but also in depth accounts: the cost of a pair of socks, the bill for an inn, much resented toll fees. On his travels he often paid for his lodgings with a landscape sketch or portrait in charcoal.
Everything fascinated the German. Like Leonardo da Vinci, who he never met but knew of by fame, he excelled in nature studies; a meteorite that landed near Basel in 1492, the famous study of a hare and even a patch of grass: The Great Piece of Turf. He had a passion for strange creatures, and collected an exotic menagerie of beasts including parrots and monkeys on his travels. "Beauty lies even in humble, perhaps ugly things, and the ideal, which bypasses or improves on nature, may not be truly beautiful in the end," he wrote.
From his great and much copied St Jerome to the quirky portraits of rich merchants and etchings like Melencholia so fine you need a magnifying glass, this show has much to offer yet the inclusion of a large number of works by Dürer's contemporaries – Jan Gossaert, Quinten Massys and Vicenzo Catena – hardly adds to the show's intended purpose which is to document the travels.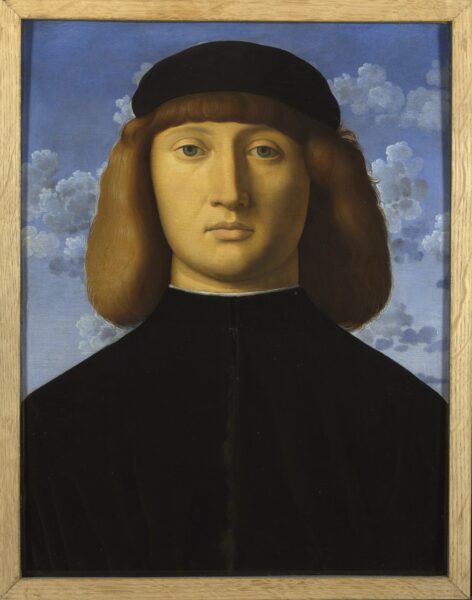 DÜRER'S JOURNEYS: Travels of a Renaissance Artist: Until 13th June at the National Gallery, London, UK.
Post Apocalyptic Art
Imagine yourself in the aftermath of a cataclysmic war that ravaged three continents. The consequences of the Second World War included severe austerity, the Cold War and nuclear threat as well as the end of empire in the East and West.
The past horrors and future promise nevertheless gave rise to rich new material for artists in Britain, dozens of whom are represented at the Barbican's new exhibition of painting, sculpture and photography. The exhibition is structured around the subjects that occupied them: the Blitzed streetscapes, wasted landscapes and the dispossessed masses.
The setting could not be more appropriate. The Barbican Estate, which celebrates its 40th anniversary this year, was designed to occupy an enormous bombsite in the heart of London.
Francis Bacon, Lucian Freud, Eduardo Paolozzi and David Hockney rub shoulder with emigrants who fled Nazism such as Frank Auerbach. However many of the artists are almost unknown, particularly the women who began to step out of the shadows. Curator Jane Alison says that the postwar period in Britain was "crying out to be revisited." .
Postwar Modern: New Art in Britain, 1945–1965 the Barbican Art Gallery, London, UK 3 March – 26 June 2022