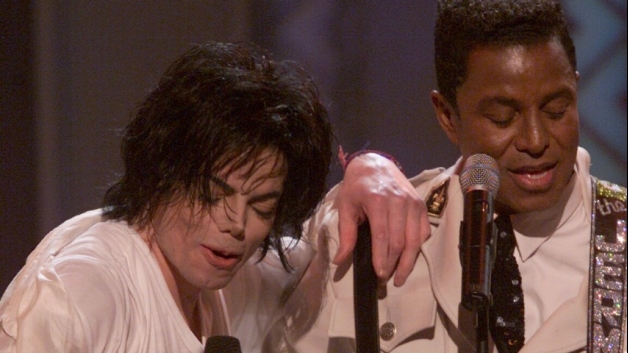 In September 2011, controversy surrounded Jermaine Jackson. A misquoted portion of his memoir had sparked outrage. A planned tribute concert in Cardiff had caused a rift in his family. Amidst all of this, Dr Conrad Murray's involuntary manslaughter trial was mere days away. Shelved without explanation by the Huffington Post, Charles Thomson's interview with the star provided a window on his state of mind amid the brewing storm. Precisely five months later, fans can finally read it exclusively here on the Orchard Times.
It's mid-September and Jermaine Jackson is winding up a grueling UK book tour. He's spent the last four days making back-to-back television and radio appearances. When his car picks me up in Wood Lane, London and drives us into the BBC Studios, he has just appeared on Loose Women – Britain's answer to The View – and is on his way to be interviewed by BBC Radio 5 Live's Richard Bacon.
As we're led inside, several dozen teenagers on a BBC walkabout lose all interest in their tour guide as they spot Michael Jackson's brother passing through the building. I feel self-conscious as their stares follow us through the foyer but Jermaine seems not to notice. It comes with the territory, I suppose. As one of the figureheads of America's most famous family, he's become accustomed to outsiders constantly looking in. The problem as he sees it, though, is that what they see is often a warped image presented by the media. This, he says, is why he has written his new book, You Are Not Alone: Michael Through A Brother's Eyes.
"How was Loose Women?" I ask him, as we wait for an elevator.
"Well…" He half-grins and exhales loudly. "They were loose."
I watch the Loose Women interview later on YouTube. Like many of his recent interviews, it was combative. As Jermaine tried to speak about his brother from a firsthand perspective he was repeatedly interrupted by the hosts. Michael was a 'complex character', they tell him. He 'must have been a sick person.'
The assumption by many that they know more about Michael than his own family is a bug-bear of Jermaine's. This attitude, he says, is the result of a decades-long battle against inaccurate media coverage. "This would become a recurring theme for the family," he writes in the book, "a showdown of fact versus perception – and fact would always be the underdog."
According to Jermaine, even his initial attempt to write a book, back in 2003, fell flat because publishers were unwilling to print a factual account of his brother's life.
"I had tried to write something with Judith Regan with Harper Collins in New York and they weren't interested in the truth then," he tells me as we sit down in an empty radio studio. "They were interested in the gossip and all the things that were not true. They wanted dirt and I said, 'I have no dirt', so they turned me down."
Eight years later, Harper Collins has come around to Jermaine's way of thinking. His book is described by the publisher as "an intimate, loving portrait of Michael Jackson." But Jermaine hasn't forgotten the 2003 debacle. "They tried to put me on the Judith Regan show on this book tour," he says. "I said, 'No way.'"
The book has been mired in controversy. As Jermaine flew to London, a storm was brewing over a portion of his prologue. Writing about his brother's 2005 child molestation trial, Jermaine wrote that he was paranoid Michael would fall victim to a terrible injustice, so he hatched a secret escape plan. He arranged for a private jet to be on standby at the nearest airport, ready to whisk his brother to Bahrain if things looked bleak.
But many journalists, apparently too lazy even to read Jermaine's nine-page prologue before writing about it, got it monumentally wrong. It all started when one story misquoted the prologue and said the Jackson family had planned to spirit Michael away to the Middle East after he was convicted. Copy-and-paste journalism took hold and the story was replicated hundreds of times by newspapers and websites including the New York Post, NY Daily News, Denver Post and Washington Times. Even the Press Association got it wrong.
The nonsensical story made Jermaine's book look like a work of fiction, a situation worsened when Michael's 2005 defense attorney Thomas Mesereau publicly blasted the claim.
"One of the reasons I wrote the book was so that my words would stand for themselves, in context," says Jermaine. "But even in the newspapers' coverage of my book my words were misreported. There was never a plan to get Michael out of the country 'if convicted'. Thomas Mesereau had to issue a denial based on something that wasn't true in the first place. That one change of context showed how one inaccuracy can snowball and how myths are made. I sat back and thought 'This is what Michael faced all the time'."
"The pyjama day stands out a lot in my mind," he says, referring to the morning during his brother's trial when the star arrived at court wearing pyjama trousers. Michael had slipped in the shower, he later told Jesse Jackson in a radio interview, and bruised his lung. He received a call at the hospital, informing him that if he didn't arrive at court within a strict time limit, he would go to the cells. With no time to go home and change, he sped to court wearing the clothes he was taken to hospital in and hobbled up the courthouse path in his pyjamas, the agony etched across his face.
The media largely dismissed the injury as a publicity stunt – as though Jackson needed the publicity at the time – or a desperate bid for sympathy. That week, his accuser's story fell apart during cross-examination, a fact that went almost entirely unreported by a media too preoccupied with the star's bedwear.
"That's when I went to the hospital and I saw him," Jermaine continues. "We had a talk and he just said he's the most misunderstood person in the world. He was serious and he was tearing [up] and I hugged him and it's like, you see where we come from and we're no different from any other family but the success, it sort of just overwhelms the human person in him.
"So much, they talk about the legend and this and that but he's a human being. He's a father who loved his children, who would spend a lot of time with them.
"I brought my kids over one time and Prince and Paris were acting up. Michael said, 'I'm very disappointed in you, you all are acting crazy in front of Jafaar and Jermajesty so you're grounded'. I mean, he was so on them that he wanted them to be good. He would not agree today, if he was alive then he would not let them be on the internet and all this kind of stuff. He was totally against all that stuff."
Following Michael's death and his kids' move into the Jackson family home in Encino, California, videos leaked of the trio singing and playing in front of a webcam. At first the footage was blamed on a hacking but then the kids' twitter accounts appeared.  Are the accounts real, I ask Jermaine.
"Yes. That's them. Yes. And we're against it. We have meetings with my mother about it. She can't control it. She's 81 years old. They had the computers taken away from them and then they got them back and they say they need them for homework but they're doing that little thing here and there."
"It's like any other parent tackling teenage kids," Jermaine's co-writer Steve Dennis chips in.
"Yea," Jermaine agrees. "Prince got a girlfriend!"
I ask him whether the YouTube videos were in fact released by the kids, not stolen by a hacker.
"They're doing that stuff!" he replies. "Yes! One person out there got in a confrontation with Paris and started calling her father all these kinds of names and stuff and I said, 'See, this is why they don't need to be on the internet. These people aren't all nice. They're waiting to say horrible things.'"
How does he feel about the kids appearing at the Cardiff tribute, I ask. He looks shocked.
"At the tribute? No. They're gonna be there?"
I tell him that the press are saying the kids will appear onstage.
He pauses, then whispers: "Ohhh… wow."
"See, Charles, I'll tell you how I feel," he says. "I try so hard to do the right thing because when you put something out there you have to live with it and it's around forever, more so today than other times because of the internet and twitter and this and that. I had a conversation with my mother and I just explained to her how this is still not the proper time and then in the same conversation she tells me the brothers are rehearsing!
"So I'm saying to myself, 'But the trial…' Because, see, this is what I don't want: What's gonna happen in the trial is again, [they'll] humiliate him, say the most horrible things and all this kind of stuff….But [the family] don't see how two weeks into the trial, to do a show when the world is focused on getting justice for him… The performance can come later."
The trial he refers to is that of Dr Conrad Murray, the man charged with the involuntary manslaughter of Michael Jackson. Opening statements are just weeks away and Jermaine has vowed not to promote his book once the court case is active. But Jermaine says he is sceptical as to whether the trial will provide the answers the family wants. For years Michael confided in friends and family that he believed he would be killed for his music publishing, whose value ran into billions of dollars – several times his much publicised debts. The family remain suspicious that his death wasn't accidental.
Jermaine points towards the differences between his brother's treatment and Conrad Murray's as proof that the establishment had an agenda against his brother.
"We know somebody did this," he says. "Whether we'll find out or not, I don't know. The trial is just a procedure, but just look how long it took. It makes me feel like they didn't care. Look how long they took to arrest Murray compared how quick they put Michael in the handcuffs on national TV."
Michael's home was searched in November 2003 and jury selection was underway by January 2005. Conversely, Conrad Murray wasn't arrested until almost eight months after Jackson's death and it was another 18 before he went on trial.
 "One thing that rubbed me the wrong way is when the judge said, 'We wanna get this out of the way before the holidays'," Jermaine grimaces. "This is the problem with LA and the whole justice system. It's more important for them to have Thanksgiving, Christmas and New Years than to get justice for my brother. It's like, who cares about that? We lost a brother! The world lost someone that they loved and they say, 'We want to get this out of the way for the holidays'. That was the wrong thing for me to hear."
"You need to hear how they treated him in the very last days"
Jermaine's suspicions about the circumstances surrounding his brother's death have been fuelled by tip-offs he has received from people who were inside rehearsals for the ill-fated This Is It concerts.
Perhaps the most shocking portion of Jermaine's book has not yet been picked up on by the media – unsurprising, given that most journalists covering the book have seemingly not even finished the prologue. The chapter details eyewitness accounts given to Jermaine about his brother's rehearsal sessions.
The witnesses paint Michael Jackson as a deer in the headlights; verbally abused by crew members, spied on by security and repeatedly showing signs of severe illness – signs which were allegedly ignored by money men pushing him far beyond his capabilities. Jermaine is especially sceptical of the concert film which smashed box office records in 2009.
"One of my sources told me that one day Michael was looking around and he said, 'Who are these cameras for?' He didn't even know! What they did with This Is It, they covered up a lot, but we give you in the book the days that they didn't show you.
"Michael wasn't happy with how they hired people, 'cuz he wanted people that he wanted to hire and they hired who they wanted to hire. So I guess they wanted everybody to be loyal to them.
"I spoke to five people who were either in rehearsals or in touch with Michael outside of them. They told me what they were doing to him. They could see he was hot and cold and so they're throwing him jackets. Charles, they treated him so bad. Someone said, 'Just chuck him a bucket of chicken'.
"But all someone had to do was call us up. Any one of us. Even the drummer from This Is It, who has been around us all these years, Jonathan Moffett, who knows us! Pick up the phone! Call me! Call Jackie! Michael would be alive today because we would have went there and said, 'Can't you see there's something wrong? What are you all concerned about? The show? There won't be no show if he's not well'. And nobody said anything.
"I was told by one of these five people that they were told to stay off the internet, don't contact [the family], what stays here, stays here. Just a lock down. So much that they had a person in his room! It reminds me of 9/11 when the thing hit the Pentagon and all the CIA went and grabbed all the little surveillance tapes from the Mom and Pop stores.
"When I tell my mother to this day, she says don't tell me, don't tell me. She cries. And I say mother, you need to know this. You need to hear how they treated him in the very last days."
Dr Murray's defence initially relied on similar testimony and his attorneys had requested permission to show outtakes from the documentary to prove Michael was already frail. However, they dropped the request when they were unable to find any compelling footage of the star looking feeble onstage. Participants in the rehearsals have publicly denied some of the allegations made in Jermaine's book.
As Jermaine prepares to move to another studio for his next interview, I decide to part ways on a lighter subject. I ask him whether we'll be seeing a return of the Jackson brothers' reality TV show, Jackson Family Dynasty.
"No," he giggles. "They don't wanna have us back after that series?"
Why not, I ask.
"I don't know," he replies.
And what about a reunion tour? He may be opposed to the family scheduling a tribute concert in the middle of Dr Murray's trial, but would he consider reuniting after the case concludes?
He beams:  "I would love for the brothers to make a huge, huge press conference announcing a tour in Michael's name. Just with the brothers around the world. That's what the people wanna see. I'm going to work my butt off when I get back to try to make that happen. I would love to and that's my goal. It should be the Jackson brothers doing a tour in memory of Michael. Playing the music around the world. That's what it should be."
Post Script: Conrad Murray was convicted of the involuntary manslaughter of Michael Jackson in November 2011. Later that month, he was given the maximum sentence of four years in jail.
During Murray's trial, This Is It director Kenny Ortega testified that Jackson had missed numerous rehearsals. He told jurors that on June 19th 2009, Jackson's condition at rehearsals had been 'deeply troubling'. Jackson was 'chilled' and 'incoherent'. "He wasn't there," said Ortega. "Something was wrong." Ortega suggested Jackson go home early that night.
In an email written to concert promoter Randy Phillips about the incident, Ortega said Jackson was like a 'lost boy'. The email spoke of organisers having already 'played the tough love, now or never card'. It said Jackson was rapidly losing weight and 'terribly frightened'. There was talk of 'pulling the plug'. "As far as I can tell," wrote Ortega, "there is no one taking responsibility (caring for) for him."
The email said: "Everything in me says he should be psychologically evaluated… He asked me repeatedly tonight if I was going to leave him. He was practically begging for my confidence."
Concert promoters denied ever being concerned that the shows could be cancelled.