Giverny in Normandy, where Claude Monet lived and painted for 43 years, was until this spring one of the most visited artists' homes in the world. Up to 2,000 people passed through its brightly coloured rooms and famous gardens every day. Inevitably, this presented a problem as Giverny became a victim of its own success and the atmosphere in which Monet created his sublime late series of water lilies was lost in the tsunami of Instagram snappers.
But the world is full of shrines to creative people and there are many lesser known but equally fascinating artists whose homes have become private museums in what is becoming a new branch of cultural tourism.
In April, America's National Trust for Historic Preservation produced the first guidebook to the 44 artists' homes and studios in its network[1]. They range from Georgia O'Keeffe's New Mexico ranch to the Hampton's cottage shared by Jackson Pollock and Lee Krasner. The guide has been hailed as a later day Baedeker. "Valerie Balint's Guide to Historic Artists' Homes & Studios is the perfect book for art lovers dreaming of a post-pandemic journey," said the San Francisco Chronicle.
This new niche in the tourist industry is explored on a global scale in Life Meets Art, published in October by Phaidon, with 250 examples of homes belonging to artists, sculptors, musicians and writers, with tantalising photographs and anecdotes that beg to be fleshed out with a personal visit. Half of all the homes in the book are – in normal times – open to the public. Many of the American examples are even now accepting a limited number of guests. "People mob the world's major museums but these homes are often empty of visitors," says the author, architectural journalist Sam Lubell whose travels took him across four continents as he immersed himself in the art, writings and music of his subjects.
There were many surprises along the way: finding that Victor Hugo, who loved designing furniture, created numerous "Frankenstein mash ups" of chairs and tables; discovering the outsider artist Clementine Hunter, who took up a brush at 80 and created thousands of paintings from memory of the Louisiana plantation where she had worked.
Preserved artists' studios are always magnet for visitors. "People are always fascinated by where art comes from. It's a mystery even to the artist often," says Louise Buck, contemporary art correspondent for the Art Newspaper. "The studio is the crucible, it's where the alchemical process all begins."
Francis Bacon's London studio was moved in its entirety to Dublin's Hugh Lane Gallery in 2000 and has a constant stream of visitors. It has been called "one of the world's great messes." The studio is as disturbing as the works of the Irish-born painter, who revelled in the chaos of the violently untidy paints, canvases, boxes and newspapers . Bacon defended the mess: "Chaos suggests images to me," he said.
At the other extreme is the home of the eccentric Antonio Blanco, now the Blanco Renaissance Museum Bali. Set in lush tropical garden, a gift of the king of Ubud, Blanco's gaudy palace houses 300 of his erotic paintings within its ornate pillared rooms. His studio is preserved exactly as he left it, with brushes, paints, and canvases scattered about and paintings covering the walls.
Many of the interiors in Life Meets Art are of their time – we have only to look at Greenway, the Devon home of Agatha Christie, all comfy rooms stuffed with chintz and china. Yet within these walls the best-selling novelist and creator of Hercule Poirot and Miss Marple, dreamed up dark tales of murder and mystery.
Coco Chanel maintained that interiors are "a natural projection of the soul" and some clearly are just that. A good example is Villa Santo Sospir in Saint-Jean-Cap-Ferrat near Nice, where Jean Cocteau lived for 11 years. It belonged to his patron Françine Weisweiller, who in 1950 invited Cocteau to stay for a week's holiday. Little did she know he would stay for 11 years, covering every surface with designs mostly taken from subjects of the Greek pantheon.[2] He used a limited palette and called the sketches tattoos and so the house, now a national monument, became known as the Tattooed Villa. "We have tried to vanquish the spirit of destruction that has dominated our era," Cocteau said. "We have decorated surfaces that men dream of destroying."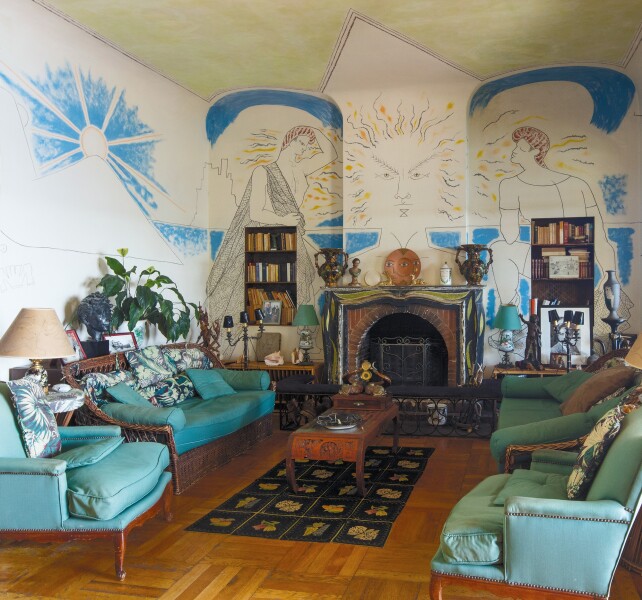 Another house that projects a soul is that of Lord Leighton, the Victorian artist and sculptor renowned for his painting Flaming June, a vision of a pre-Raphaelite muse swathed in orange silk and fainting from the summer heat on a marble terrace.
Leighton House in Holland Park, London, began life as a simple brick structure with double height studio but numerous additions— inspired by Leighton's travels—were made. The most memorable is the Arab Hall, modeled after a 12th century palace in Sicily with a peculiar mixture of Moorish tiles and fretwork, gilt friezes and classical columns: all elements that creep into Leighton's paintings. The house, long open to the public, has a secret entrance where models could enter discreetly so as not to attract the attention of prudish Victorian neighbours. [3]
Many artists had a hand in designing the spaces in which they lived. The Flemish master Peter Paul Rubens may be renowned for his voluptuous ungainly women, but his home in Antwerp, Belgium, for which he drew the plans, is all elegance. Though much altered, basic elements like the portico and pavilion – based on Italian Renaissance proportions – remain exactly as he designed them.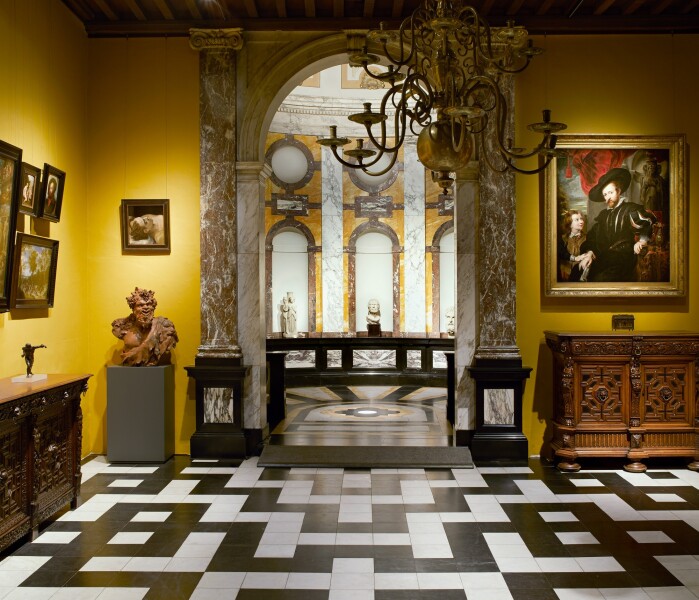 Many homes are surprisingly contemporary for their era. One striking example is the house of Danish furniture designer and architect Finn Juhl, which could have jumped straight from the pages of Wallpaper. The open-plan residence with its cool colours, iconic chairs and hand crafted everything anticipates today's industrial chic interiors to perfection.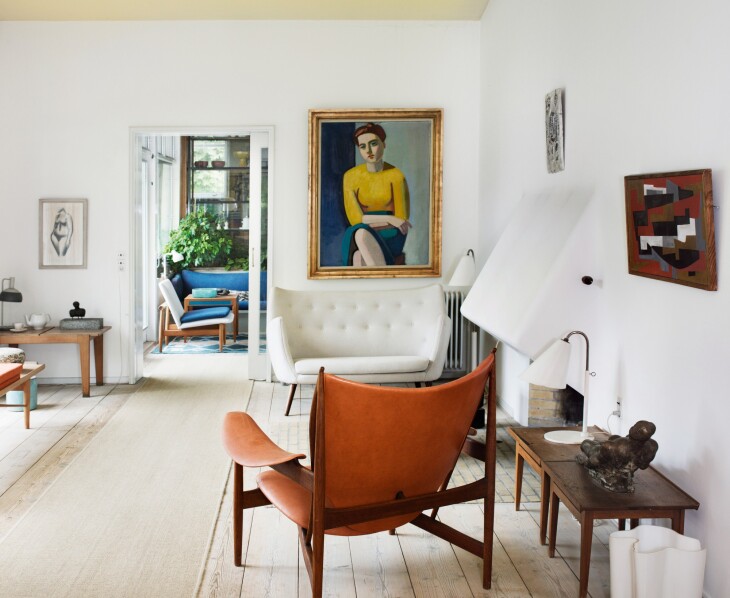 Another Scandi style home – that of sculptor Gustav Vigeland gives almost no hint of the exuberant works he made which now furnish Vigeland Park in Oslo. The austere red brick building – now a museum – was paid for by the city in return for the gift of his works. Once installed in 1924, Vigeland turned his hand to interior design, designing everything from carpets to candlesticks.
The 'Organic House' of Mexican architect and designer Javier Senosiain near Mexico City v might anticipate the future of architecture and design. The hobbit like building is entirely inspired by curvilinear natural forms ranging from mushrooms to seashells. Covered in grass, flowers and shrubs, it boasts one of the world's first fully green roofs. The garden is actually on top of the house, which resembles the inside of a cave network. "The straight line is pretty much absent from nature: everything …. shifts in spirals," says Senosiain.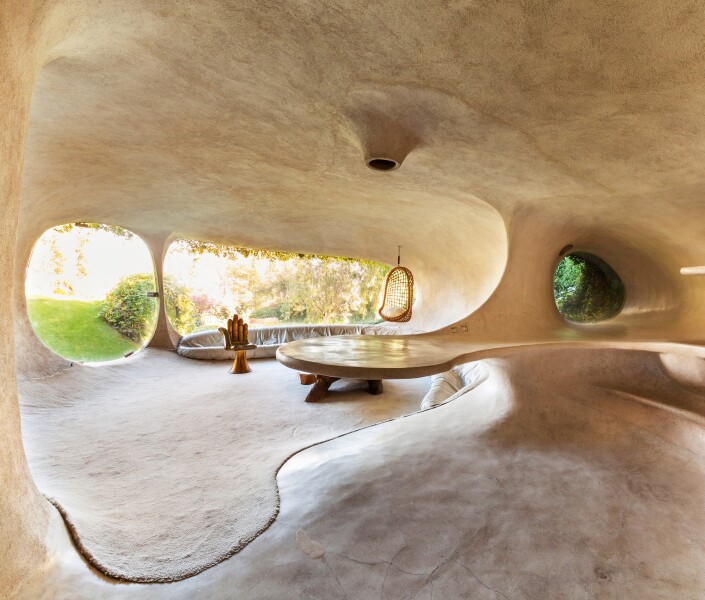 Tragically, the playwright and poet Friedrich von Schiller died within just three years of finally having his own home. The mustard yellow house in Weimar, Germany, is located next door to Goethe's residence and no trip to Weimer is complete without a pilgrimage to these two places. The entire attic was Schiller's space where he wrote and received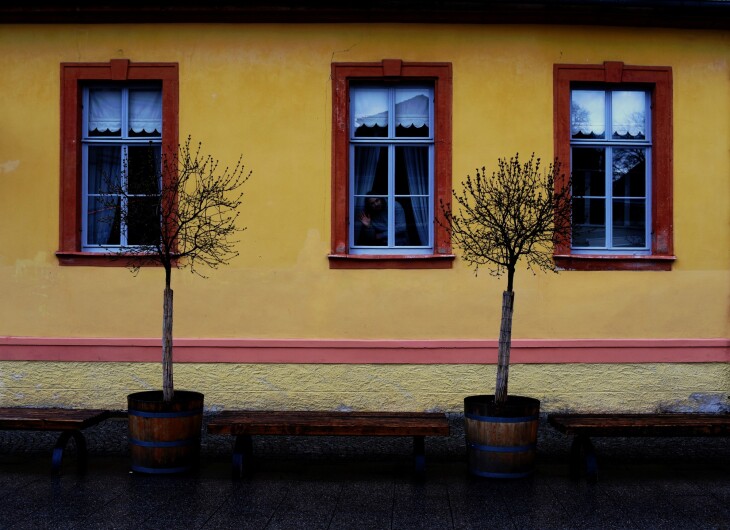 It is rare for houses to contain canvases or manuscripts of famous former owners (most will be in museums) but the spirit of the person can be preserved. In the Lake District the home of Beatrix Potter, with its old walking boots by the table, remains as was her wish as "if she had just gone out to the post." National Trust curator Lucy Porten says: "The furnishings and personal effects of an artist can tell their story."
The home of the ceramicist Kawai Kanjirō (1890–1966 in Kyoto, Japan is a shrine too his work in a rather different way. Kanjiro was one of the founders of the Mingei folk art movement the 1920s and 1930s and the memorial house is full of his rustic handcrafted objects, all immaculately ordered and arranged.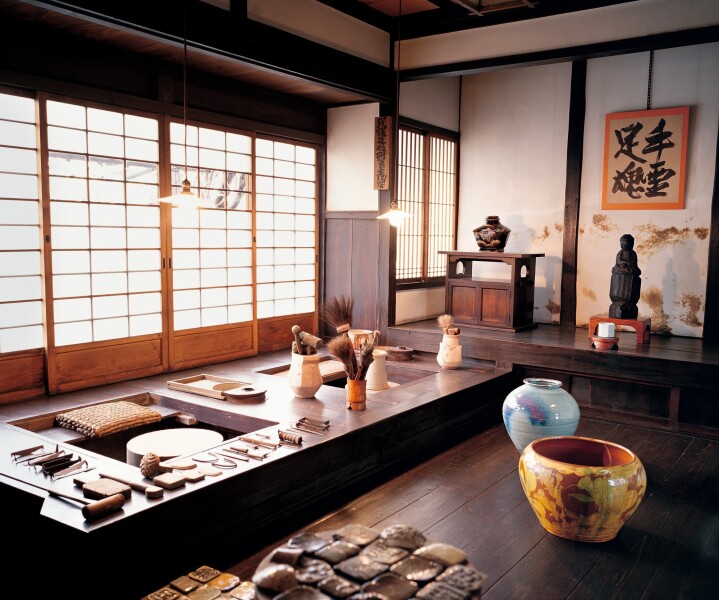 Among the homes in Life Meets Art are a handful that belonged to great musicians, Elvis Presley's Graceland of course but also those of Puccini and Tchaikovsky both of whose homes were sanctuaries where they could compose in peace. For jazz legend Louis Armstrong it was a different matter. Despite the huge wealth he amassed he chose to live in a working class neighbourhood in Queens, New York "with the rest of the colored folk and the Puerto Ricans and Italians and Hebrew cats." His wife Lucille Wilson summed it up: "Louis didn't live anywhere and didn't want to."
---
[1] https://www.chesterwood.org/books/guide-to-historic-artists-homes-amp-studios-a-program-of-the-national-trust-for-historic-preservation
[2] https://www.thegoodlifefrance.com/house-jean-cocteau-painted/
[3] https://www.rbkc.gov.uk/subsites/museums/leightonhousemuseum1.aspx