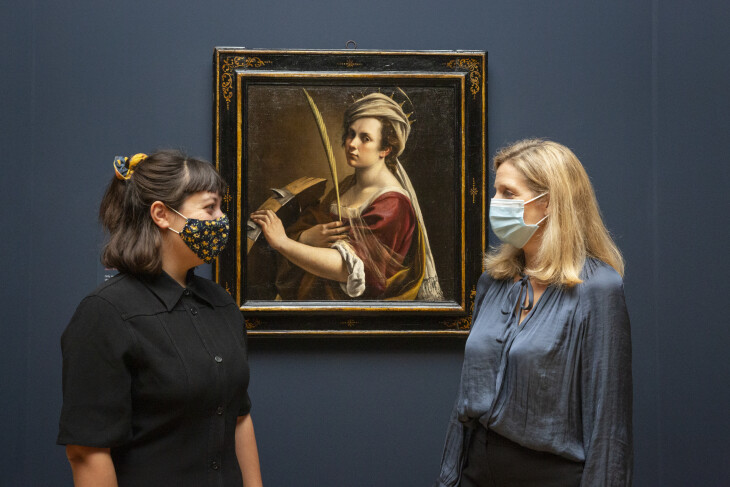 Across the globe, museums have adapted to the new realities posed by the Covid pandemic. In many countries this means new lockdowns as governments battle to control infections. Many museums re-opened in the summer only to be forced to close again – one of the most important shows so affected was Artemisia at the National Gallery which had an all too brief flowering but can still be seen online by members. Hundreds of virtual shows have taken the place of live events. Hopes are again being raised that vaccines will begin to enable the re-opening of our museums, in particular the smaller regional ones that cannot rely on well heeled trustees.
Rare portrait of cross-dressing king comes to light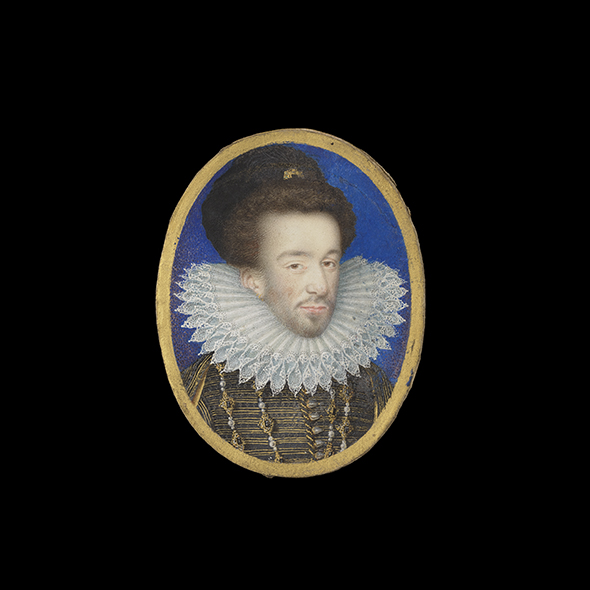 Jean De Court. Portrait of Henry III, King of France © Philip Mould
A miniature bought 'unseen' during the 2020 lockdown and originally believed to be of Sir Walter Raleigh has proved to be a portrait of Henri III of France (1551-1589) and one of a very rare number of images of the king. Experts at Philip Mould were also excited to discover the signature Decourt when conservation work began. Jean De Court was an important French court artist of the mid 16th century, reputed to have painted both Mary, Queen of Scots and Elizabeth I.
Henri III was a notorious cross-dresser who often wore elaborate dresses at jousts, banquets and in court. Courtiers who followed his eccentric style were said to resemble "whores of the brothels" with "their hair long, curled by artifice, with little bonnets of velvet on top of it…. so their heads look like St John's on a platter" – a description that could equally be applied to the hairstyle of Henri in this miniature.
Henri's reputation for sodomy – fuelled by his enemies – may have played a part in his assassination by a Catholic fanatic after 15 troubled years on the throne. Much later after the French Revolution it became dangerous to possess images of royalty and the theory is that the miniature came to England around this time, escaping the fate of many court portraits.
Folk Art brings light relief in dark times
The Earth Stopper, George Smart © Compton Verney
For instant relief from Covid depression head to Compton Verney to see the largest collection of British Folk Art in the UK – online of course. Under normal circumstance you would be able to tour the Grade I Georgian mansion in Warwickshire, purchased in the 1970s by Littlewoods heir and collector Peter Moores, a great philanthropist who created a series of galleries in the restored house and furnished them with his eclectic collections, ranging from ancient Chinese bronzes to 17th century Dutch paintings.
But it is the assemblage of folk art that at present offers the most fun for those visiting the website. In one painting The Earth Stopper by George Smart, from 1840, we see a terrified farmer riding home at night after stopping up fox holes in preparation for the hunt. As he rounds a corner on his nag, he meets a sooty chimney sweep coming up the lane and jumps out of his skin – and saddle – in terror for thinking the figure is "nothing more or less than the Devil."
Divided into farming, street, people, pastimes, mariners, such highly expressive paintings give a glimpse of life in bygone urban and rural communities. But modern works, such as Population Explosion – a patchwork by Elizabeth Allen commenting on fertility treatment – are also among the treasures while seven new works by Mark Hearld, which also include a patchwork, have just been acquired.
The grounds of Compton Verney remain open to members but at the time of going to press the collections can be viewed online only.
Visit: www.comptonverney.org.uk
Raymond Briggs: A Retrospective
The Bear Raymond Briggs 1994

Internationally famous for books including Fungus the Bogeyman, The Snowman and When the Wind Blows, this is remarkably the first ever exhibition devoted to Raymond Briggs.
Briggs' talents included not only captivating storytelling that entranced both the adults who read his books and the children who were lucky enough to have them at bedtime, but wonderful drawings and paintings of the characters he was depicting. His books have sold millions of copies and several have been adapted for stage and screen mostly notably perhaps The Snowman, the animated version of which is screened annually at Christmas. .
Born into a working class family, Briggs' father, a milkman, discouraged his son's ambitions to become an artist but fortunately the young man decided he would rather starve than give up art!
He turned to illustration and soon began winning awards.
Briggs once said that he illustrated the entirely wordless The Snowman as a clean and fresh antidote to the years "buried amongst muck, slime and words" on Fungus.
Examples of never-before-seen material from Briggs' personal archive, revealing the origins of iconic titles that have become household favourites, will be shown alongside original artworks.The touring exhibition is scheduled to open in Hampshire in April.
30th April to 18th August at the Gallery, Winchester Discovery Centre, Hants.
New Museum of Art & Photography
Bhuri Bai: My Life as an Artist

Faced with building delays due to Covid, India's new Museum of Art & Photography (MAP) in Bangalore launched last December with a digital display of works from the sub-continent.
MAP's digital platform now offers curated experiences allowing audiences to interact with exhibitions and events from home. The collection of over 18,000 artworks, predominantly from the subcontinent and dating from the 10th century to the present, is wide ranging, with tribal and folk art as well as contemporary and pre-modern works continually being acquired. Among the opening exhibitions which can still be seen online is Bhuri Bai: My Life as an Artist charting the life of the Bhil painter, muralist and illustrator whose lively visual vocabulary records her experiences and travels as a contemporary artist. The programme also includes Museums Without Borders, video collaborations that will compare objects from international collections with those from MAP 's holdings, allowing audiences to make comparisons without travel.
Visit: https://map-india.org
Jerome Zonder, L'Homme Gris, 202. Photo Mike Zenari

It seems an odd time to schedule a show devoted to the Devil in which coffins, masks, skeletons and other horrors play a major part. But the present exhibition at Casino Luxembourg was not doubt planned long before the pandemic.
The exhibition is devoted to contemporary representations of the Devil in non-archetypal forms. He is visualised as the man on the street corner – someone you have perhaps known and even admired – an aloof everyday presence who is nevertheless anonymous; the Grey Man. Designed to explore the dangerous banality of evil it is fascinating to see how differently the many artists who are represented tackle the subject. Iris Van Dongen sees a woman wearing a kimono and holding the bridle of a fine horse as somehow 'devilish'. For Jerome Zonder it is a series of heads which look like the victims of acid attacks while Elodie Lesourd appears to have drawn the face of Johnny Depp peering through a panel as her diabolical. The 15 minute video of the show, which asks why in a largely secular society we still see the Devil, is at the moment the closest we can come to appreciating this interesting and varied exhibition.
Virtual show now open at Casino Luxembourg www.casino-luxembourg.lu