The Embroidery Museum on the Greek island of Lefkada must surely be a leading contender for the title of world's most expensive museum. At present, the honour is held by the Buehrle Museum in Zurich, a collection of mainly French Impressionist and Post Impressionist art, which costs about £18 to visit. At £16, MOMA in New York, where you can see some of the world's greatest works of modern art, comes second. But price per exhibit, my Lefkada Museum, which cost Euros 20 (£15.75) beats both by a mile.

I'm quite fond of Greek Island embroidery –  a dying craft – so when the people at the Pavezzo Country Retreat where I was staying told me the island was famous  for a very special sort of embroidery I high tailed it to the town of Karya to see if I could hunt up something special. And so I did. At the back of the town up a steep hill lies the museum. It's inconveniently open from 9am-10am, but if you make an appointment a man with a large stick will open up especially for you. So the indefatigable Apostolos who helps run the Pavezzo retreat tracked down the number for me and made the appointment and that was how I discovered the world's third most expensive museum.    
The most important weaving in the museum (which I am supremely confident you have never heard of) is a small kilim which is nailed to a wall and mostly obscured by a dirty plain woollen skirt, which probably belonged to a shepherd, tacked over it. Other highlights are small stained embroidery of a woman herding goats and a 19th century religious panel of the crucifixion. A woven bedspread confidently dated to the 17th century looks from the aniline dyes to be from about 1930.
The story behind the Karya museum goes as follows. A local woman who had lost one hand and was unable to do embroidery like everyone else in the Ionian Islands went to herd her sheep one day and saw a burning bush. Then, as is often the case on such occasions, she had a vision of the Virgin Mary who told her that she was destined to open a sewing school and showed her how she could overcome her disability and embroider with one hand by using a special new stitch. Filled with the divine revelation she hastened back to the village and told everyone, and they of course believed every word of it, because visions of the Virgin have always been very, very good for tourism. So  she opened her school to teach children the Stitch, examples of which you can see in the museum of course. 
Having enthralled me with the story the curator began the tour, leading me through the upstairs room filled with a loom and models of women weaving. They're not quite of Madame Tussauds quality – being made of stuffed bolsters and pillows with painted faces – but  they are definitely very creepy. I was a bit disappointed with the embroideries, of which there are few and mostly rather grimy, as the curator happily grabs them with his not-to clean fingers to show you the Stitch.
After this brief tour (if you walk slowly it takes about 98 seconds to cover this room) he took me downstairs to a very dark place which was the old schoolroom and ordered me to sit on a log. He then told to pull up my skirt, put my hands behind my back and open my legs. If you hesitate, he helps out. Much to my relief a German family had crept in behind me and their two children were being forced to follow the same ritual.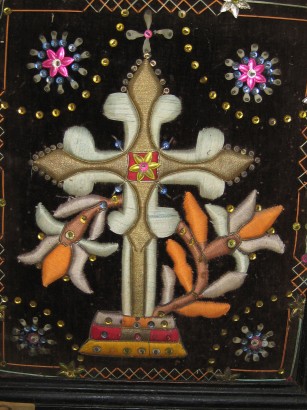 The object of this was soon revealed. I was to learn the Stitch. The curator placed a piece of cloth between my knees, to show how it could be held; the Germans took my photograph and that was the end of the tour: apart from the obligatory shop. The curator, who up to now had been quite friendly, seemed to descend into a dark mood as I approached the exit. Here, blocking the way was a table laid with small (I mean really small) squares of white cloth embroidered with the Stitch. This, he informed me rather angrily, was all the handiwork of his daughter. The price: 15 Euros. But that did not include the entrance fee, which I had not yet paid, of 2.50 Euros. I handed over a 20 euro note and waited but there seemed to be a problem with change. Now the curator was getting quite worked up about the fact that he had opened specially up even though it was long after 10am. So I told him to keep the change and he handed me a leaflet from Eurocar, presumably by way of thanks, and unblocked the exit.     
For other off-the-track Greek delights, visit the Pavezzo Country Retreat on the Ionian Island of  Lefkada. Visit www.pavezzo.gr or call +30 26450 71782 and ask for Apostolos.