THE last time that I researched the cost of an all-inclusive holiday on the Red Sea Riviera, it came to around £400 per head. The price included flights, transfers, 7 nights in a 4-5* hotel, breakfast, lunch, dinner and all you can drink, plus almost certainly a belly dancing display. The 5 * hotels at Sharm el Shiekh and Hurghada (below) have everything the ordinary holidaymaker needs, wants, and then some.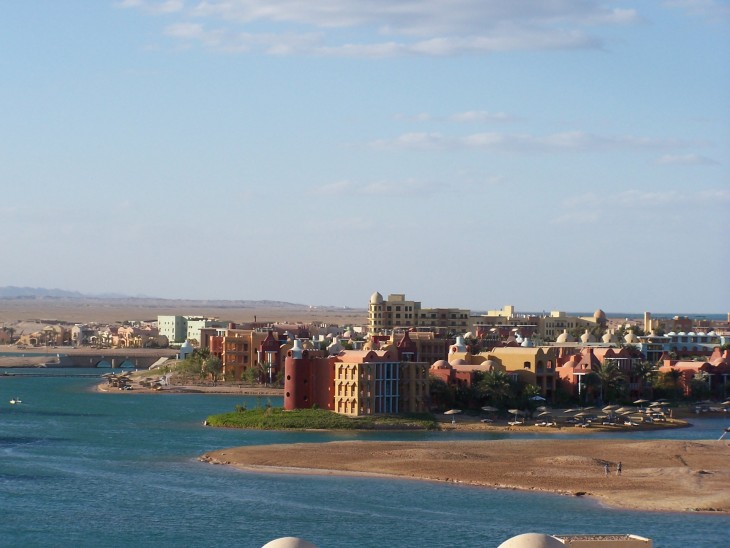 They are new, they are beautiful and the rooms, beds, pools, spas and (not forgetting) staff are 95% impeccable. Let's compare that price with a 7 day stay at a place where winter sun is guaranteed, for example the Atlantis, Dubai. Here your 7 nights all -inc. would cost at least £2,250.

Four nights at the Movenpick, Dubai, would bring that down to £1,669 if you are quick; in December all these prices rise. I could go on, endlessly, but it's pretty easy to see where this is heading. The Red Sea is fantastic value and that is why, despite numerous security issues, people go there in their thousands: 80,0000 Russians and 20,000 Brits were on holiday when Metrojet flight 9268 to St Petersburg was downed over the Sinai by what is now believed to be an on-board bomb.
It is estimated that 900,000 people fly to the Red Sea resorts from the UK every year, in spite of repeated terror threats going back decades. Throughout this time, the Foreign & Commonwealth Office have continued to exempt the Red Sea resorts from their travel alerts. To have done otherwise risked a diplomatic storm.
Many Brits have also been snapping up property on the Red Sea, because again, it is cheap. In 2004, when I first set foot on the sands of Hurghada at the beginning of a building boom, you could get incomparable value in contrast to Spain, for example. At El Gouna, you could acquire a 3 bedroom house that looked like something from the Arabian Nights for around £20,000.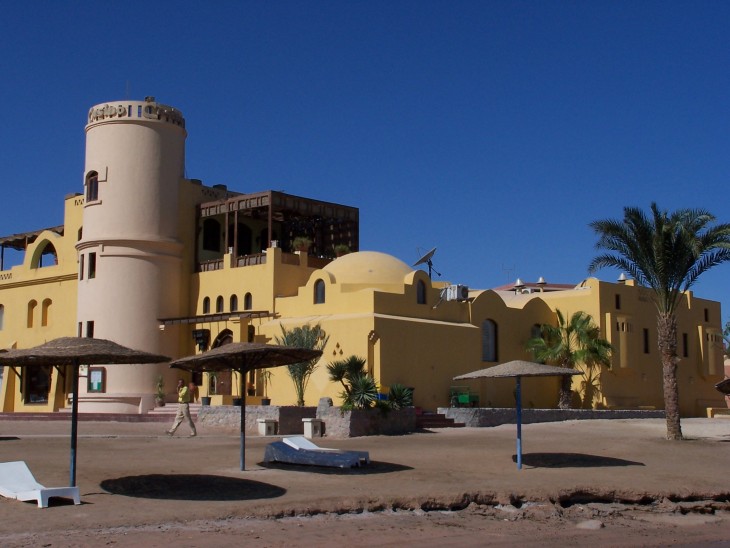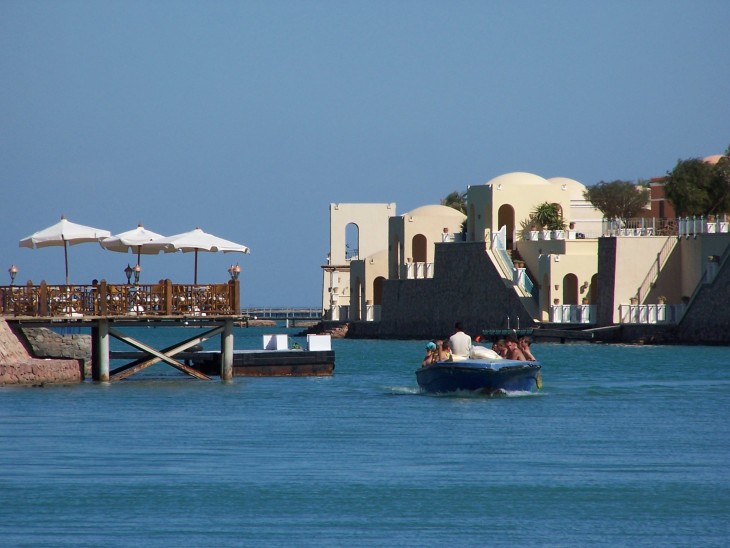 The British were piling in despite the alleged Palestinian bomb attacks of the same year, when a truck drove into the lobby of the Taba Hilton and exploded, killing 31. Security was stepped up at hotels; you could not drive to the front any more and at the Movenpick El Gouna all bags went through a scanner on all visits. It deterred neither tourists nor investors. After the 2005 Sharm bombs, security was tightened further, cars crossing the perimetre fences at resorts were swept by bomb detectors now.
Trips to Luxor and the Valley of the Kings, offered by the Red Sea resort hotels, began to involve armed convoys. It was at Luxor you will recall that 62 tourists were massacred at the Temple of Hatshepsut in 1997 by Islamic extremists, a major blow to Egypt's tourist industry. Tourists were trapped inside the temple and the killing lasted nearly and hour with many women mutilated with machetes. A note praising Islam was found inside a disemboweled body.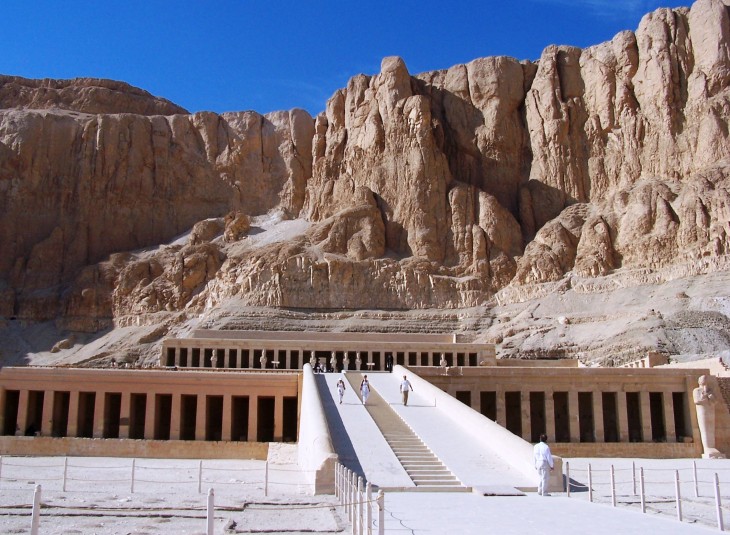 The response was to force all traffic to Luxor to go under armed guard. Initially everyone was coralled at 5.30am in a compound surrounded by wire to await the police escort. This seemed a counter-intuitive measure, since any terrorist would have been aware that every tourist wanting to see Luxor would be gathered in the same place, behind a wire fence, at the same time every day. The arrangement seems to have been dropped but there are still regular – and all too predictable stops – for loos and coffee over which tourists have no control.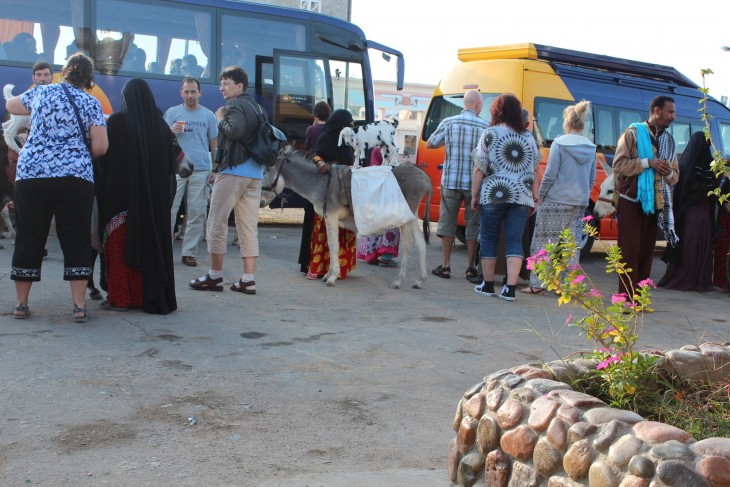 En route the innumerable crossroads are closed to allow a free and fast passage. There are a lot of checkpoints and armed police but once in Luxor, and just as you are beginning to get fond of sirens and police outriders, you are abandoned by them.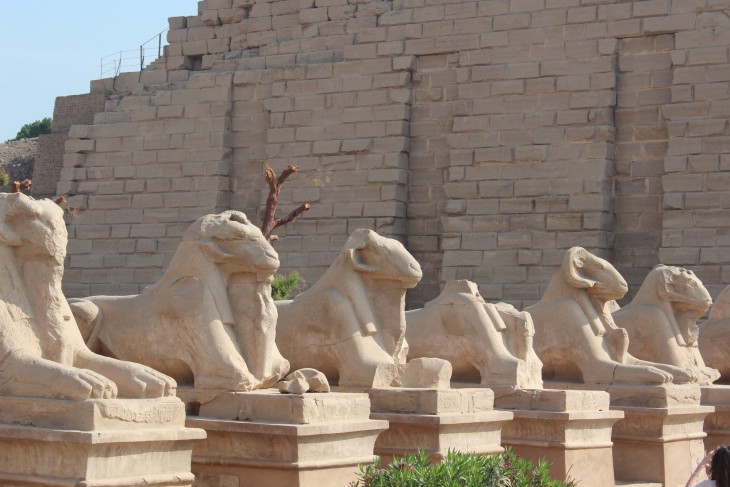 Security last summer was certainly tighter, our minivan was stopped three times and our papers scrutinized. There were also more armed men which does not actually, if you think for a moment, necessarily mean greater security, it just means more guns and possibly in the wrong hands. These men generally are genial, and rather old, and it is a moot point just how useful they would be in the face of a highly organised and well armed band of jihadists. The fact is that simply by being there in the desert we put ourselves at risk knowingly. We do that to see the temples and tombs.
The tourists who stay on their sun loungers do not put themselves in the way of this additional risk but in the aftermath of Sousse, Tunisia, it cannot be denied that there is some risk-taking in return for a cheap holiday and even this week there were reports that some tourists were trying to snap up deals to the Red Sea resorts.
The focus of complaints by Brits trying to get back from Sharm el Sheikh has been laxness in airport security. Certainly the report that a guard was playing a game on his mobile while scanning bags is deplorable but the appearance of being casual is not always an indicator of laxness. Writing in the Sunday Times, Dominic Lawson argues that our airports are no more safe than those of Egypt. Of airport security he says: "There is no instance of an actual terrorist picked up by this mind numbing tedious operation."
As for paying to avoid the passport control queue; it happens all over the world. It's a simple answer to below subsistence level wages in the very places that we fly to for cheap all-inclusive holidays that we would never be able to afford if the countries in question had Western style income levels.
At some point our enjoyment of travel must become incompatible with high security. Uncomfortable as it is to mention it, would you like to be tanning on a beach with armed officers on patrol? Do you really enjoy visiting tourist sites with outriders? Will greater security change the risks of travel or just ruin the pleasure in it?