Roll up, roll up, for the Greatest Show on Earth!!! The Royal Academy of Arts celebrates the 250th anniversary of the Summer Exhibition with two related events, the usual rooms packed with random works by amateurs works alongside the all too familiar entries of Academicians such as Ken Howard and Michael Craig-Martin.
In tandem there is The Great Spectacle presenting a history of the paintings selected going back to 1768 when it all began. Let's come to that later because I can't wait to say that the Great Spectacle on press day was Grayson Perry, RA.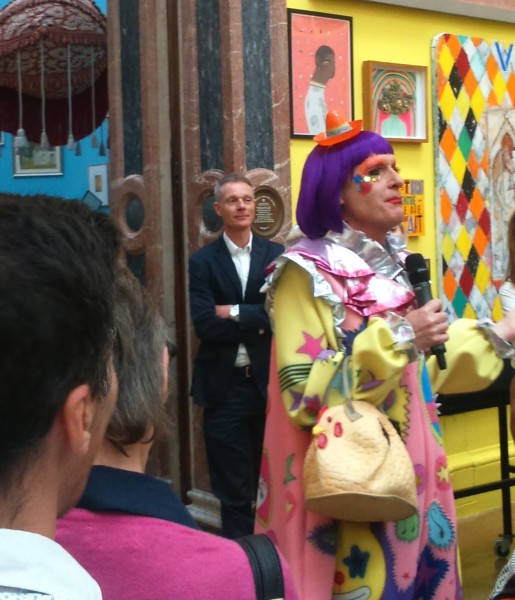 Here he is in a lemon-coloured coat that matched the walls he has chosen for Room 2 and warning cone on his head so you really could have mistaken him for a clown. Before hitting the Lemon Room, I'd had to negotiate a giant textile chandelier festooned with balls by Portuguese artist Joana Vasconcelos in the Rotunda. It would have looked perfect in the halls of the young lady of Baroda. The next eye catching work was a rubber Pink Panther alongside a portrait of Nigel Farage at both of which clearly one was supposed to take a potshot. So my first impression was that the Summer Exhibition has placed itself firmly in the arena of what I would call 'fairground art'.

So Perry's dress was entirely appropriate and in terms of bizarre normality it matched the artworks although you might think that it – the outfit – also stole the show which is not what a curator should really do I suspect. Hovering behind Perry on press day was a man in a grey suit. Tim Marlow is artistic director of the RA and he was wryly taking in the attention that was washing around Perry as everyone tried to obtain their Instagram and Tweet of the Day. Marlow is a sensible, nice man who was not going to upstage his prize showman.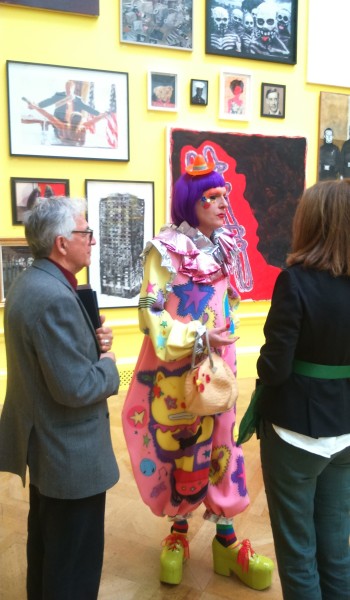 Launching into his speech on the dot of 10 am (what is it about anarchists that they like to keep such regular hours?) Perry was remarkably composed for someone balanced on 7 inch yellow patent leather wedges. He explained the choice of lemon yellow walls as being a 'party' colour which I guess is how he sees this event. One Big Party. Yet far from being clownish Perry was sort of deadly serious about the role he has been given as guest curator. He talked about the problems of the selection process and how he had tried to give everyone a fair shot at the game because he believes art should be democratic. He described the chaos of trying to hang the damn lot in a very short space of time and get it all looking right which – owing to his selection process – was never going to happen.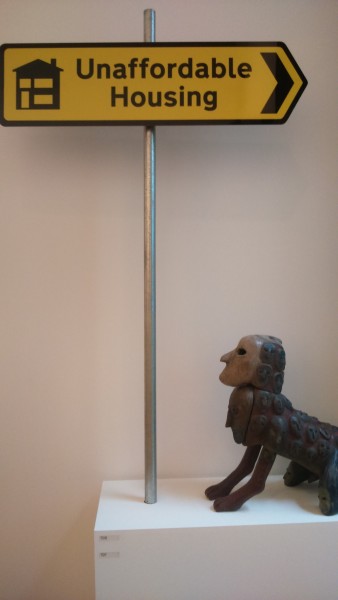 This is the world's largest open-submission art exhibition, as he pointed out, and he had embraced this idea fully by choosing to pack the show with a ridiculous number of talentless works, some it seems submitted in jest, such as the portraits of himself. I got the impression that the really crap works were hung as high as possible. I wondered how the Academicians felt about this. Every active RA is entitled to hang 6 works , and year after year they do so, revisiting their themes with tireless energy, boldly going where they have been before.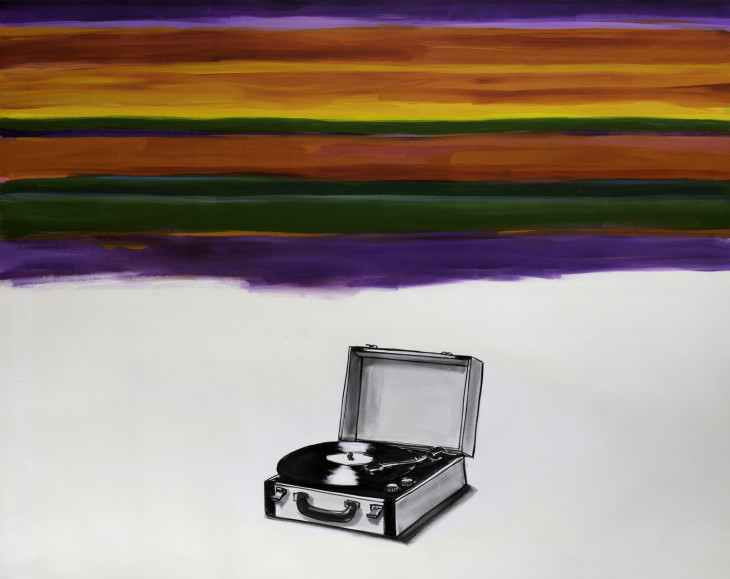 Grayson made no apologies. The show was a unique festival of arts, a joyful celebration of the process of making art. He has got away with it somehow but mostly I fear because the Summer Exhibition has been so derided for so long. So many artists won't submit work because they fear their reputations will be tainted by association with this perceived downward spiral. I doubt that the 2018 show will make any difference to this opinion.
June 2018