Wallpaper has made a huge comeback in interior design. Now luxury brands have entered the market and you can line your walls with designs by Hermes and Gucci for a modest price.
What did the wallpaper that hung in Oscar Wilde's cheap Parisian hotel room look like? He said he was fighting a duel to the death with it: "one or other of us has to go." Frustratingly there are no details of the aesthetic offence it had committed and despite its iconic status, no one thought to preserve a sample when the room in which Wilde died was redecorated. That is the fate of most wallpapers. They are a transient item of decor. They stain, crease, become mouldy and above all go out of fashion. Historic examples usually only exist in archives, although thankfully some exquisite block printed and hand finished Chinese wallpapers have survived.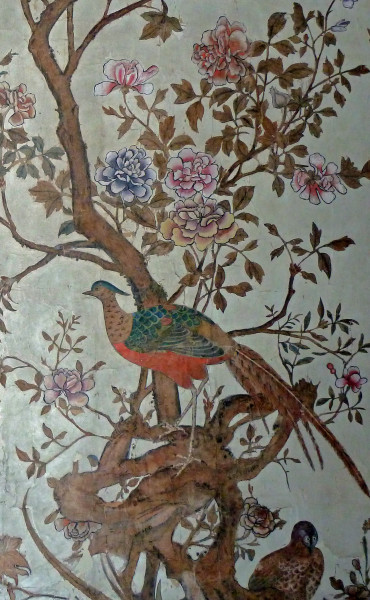 The Chinese have the honour of inventing wallpaper and are said to have pasted rice papers onto walls as far back as the Qin dynasty. Smoother linen fibres later replaced rice making painting and printing on paper easier. By the 12th century the skill of paper making had spread to the West via the Silk Route.
The earliest surviving fragment of European wallpaper, found in Christ's College Cambridge, dates from 1509. It was made by Hugo Goes of York. It has a damask style design of pomegranates derived from Islamic prototypes and later much copied in Italian and Spanish textiles. It is a key sample because it not only shows how textile designs influenced wallpaper but also because it is a block print.
Advances in block printing technology heralded the widespread use of wallpaper. Images taken from tapestries and other expensive fabrics such as damasks and tooled leather, used by the rich to adorn their walls, were copied onto blocks of paper for poorer households. According to the V&A's Short History of Wallpaper "it has never quite thrown off the taint that comes from being a cheap imitation" but view is being challenged by recent developments in the world of interiors.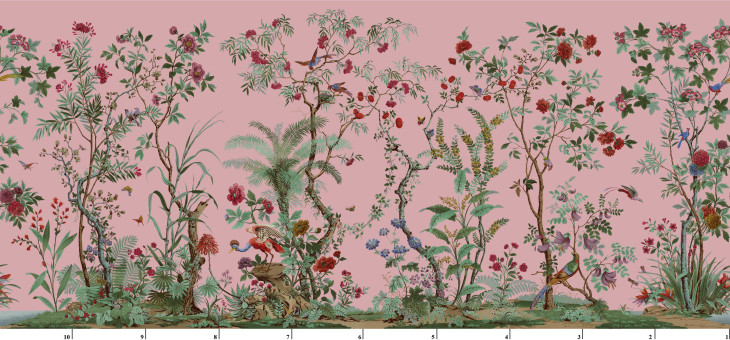 The first guild for dominotiers -makers of wallpaper – was created in France in 1599. Historian Savary des Brusions, described them as making "a type of tapestry on paper … used by the poorer classes in Paris to cover the walls of their huts or their shops." With the invention of the first machine for printing wallpaper in 1785, the French came to dominate the industry. One of the most famous of the manufacturers was Jean-Baptiste Réveillon, who had a Royal Warrant and produced lavish and ludicrously expensive papers for the aristocracy at his factory in Paris. The papers featured flowers, swans, birds and beasts and were often hung as panels framed with gilt edges. Cornucopia overflowing with fruits were a popular motif. Perhaps unsurprisingly given the food shortages the first violent demonstrations of the French Revolution – known ever after as the Réveillon riots – took place at the factory.
At roughly the same time, the Chinese were exporting vast quantities of both furnishing fabrics and rice wallpapers likewise decorated with oriental flowers, birds and landscapes. Chinoiserie became all the rage and in no time the designs were copied by Europeans.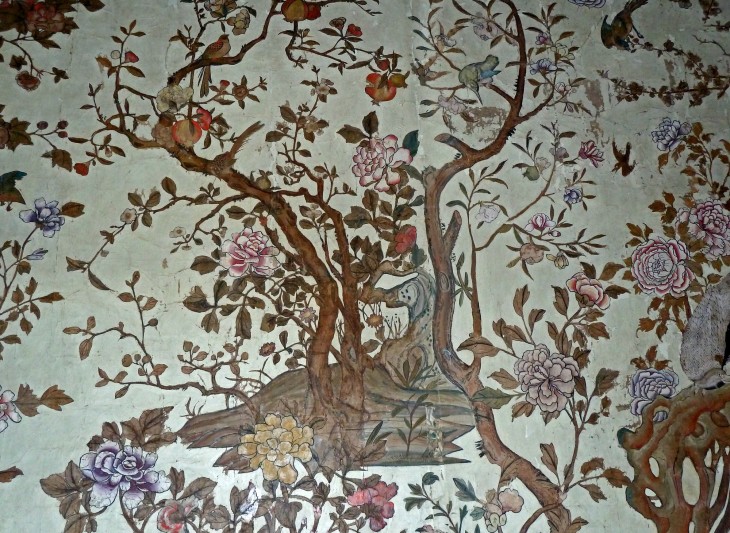 Flocked wallpaper – usually hung on batons and long seen as the epitome of tastelessness – dates back to 1680. The first examples were a poor man's cut velvet. The coloured paper was coated with patterns of glue onto which was sprinkled the shearings of wool left from cloth making. Historic examples are surprisingly attractive.
The mid 18th century saw a massive expansion of Chinese workshops making woodblock prints in a wallpaper format to cater for Western love of everything Eastern. These bird-and-flower export wallpapers had brightly coloured backgrounds. Aimed squarely at the European market, they became a defining feature of the English country house frequently mentioned in letters and diaries. Examples survive at Ightham Mote and Felbrigg where the wallpaper in the Chinese Bedroom is recorded as having been hung in 1752 by a London paper-hanger called John Scrutton. The printing is so fine that the papers were originally assumed to be hand painted rather than block printed. The botanist, Sir Joseph Banks praised the Chinese painters for their accuracy, observing in his Journal in 1770: "some of the plants which are common to China and Java, as bamboo, are better figured there than in the best botanical authors."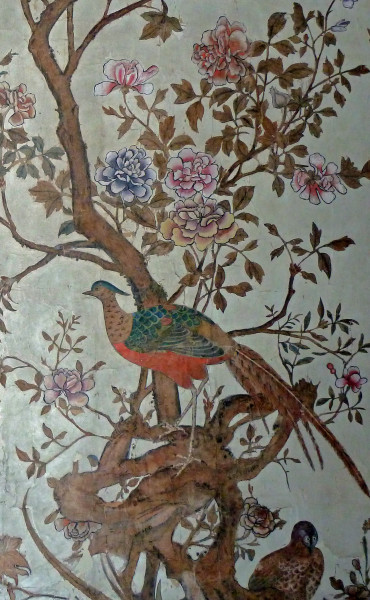 Such luxuries did not escape notice. In 1712 a property tax on wallpaper had been introduced under Queen Anne and remained in force for 124 years. Forging wallpaper stamps (or anything else) was in 1806 added to the long list of offences punishable by death. In dodging the tax by simplifying designs into stencils, English manufacturers lost out badly to the French whose repertoire was endless and boundless. In addition to brilliant copies of textiles, there were panoramic landscapes, battle scenes, grottos and Gothic and Rococco Revival designs.

The repeal of the tax, together with the introduction of mass production printing techniques in the Victorian period galvanised the English wallpaper industry once more. Wallpaper went from being a background element in the home to arguably the more important part of the decor. New technologies allowed for greater illusionism as well as cheaper production of the panoramics. While the designs of William Morris might today appear to epitomise the Victorian look, he was in fact appalled by the vulgar panoramics of the industrial age. The Arts and Crafts Movement designs produced by Morris & Co harked back to nature with repertiore of birds, flowers, trees, leaves and fruits.
However a killer was lurking among the brambles and roses: Morris & Co used large quantities of arsenic in their dyes – particularly for the greens in wallpaper. In the 1860s when a number of child deaths were attributed to wallpaper, William Morris refused to accept they had been poisoned. Eventually he bowed to public pressure and began to produce wallpaper that was advertised as 'arsenic-free.'
For a brief period when Modernism took hold bare walls became fashionable but wallpapers have recently rolled back into fashion in a big way. "Wallpaper is certainly enjoying a big renaissance – although our firm never really saw a downturn," said a spokesman for Zuber, a French firm dating back to 1797 that supplies everything from cut velvet and tooled leather to panels and embossed papers. Zuber is particularly is famous for panoramas such as The War of American Independence, dating from 1852, which is still available today if you take out a mortgage; at £24,000 for 32 panels it has entered the Guinness Book of Records as the world's most expensive wallpaper. A Zuber panorama also hangs in the White House. Annabels, another client, have used Zuber's tooled leather paper in their new Berkeley Square Club. Another notable French name is that of De Gournay many of whose custom made wallpapers are reminiscent of historic Chinese wallpapers that are now traded as antiques.
The march of luxury design has seen brands such as Hermes, Versace, Roberto Cavalli, Louis Vuitton and Christian Lacroix stetching into the wallpaper market. The papers are available in all the traditional styles – as botanicals, florals, textures, rock styles, damasks, panels and they have made their way into many a showhome. Surprisingly affordable, they are "a way to partake in a luxury brand" says Charu Gandhi, founder of the luxury design house Elicyon who uses papers from Philip Jeffries, Hermes, Fromental, Dr Gournay and Arte among others. "I am a great fan of wallpaper as well as fabric panelling. It cocoons a space and has wonderful acoustic qualities. It can be playful or powerful, subtle and flexible."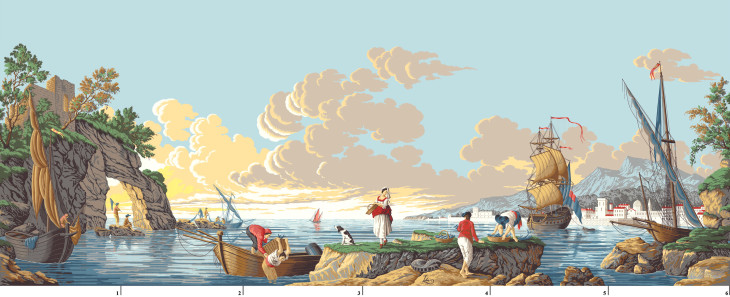 "Wallpaper is having its day in the sun," adds interiors expert, Tricia Topping : "It is now centre stage in every showroom window at Chelsea Harbour Design Centre and is being using by top interior designers with spectacular results."