Harald Sohlberg: Painting Norway
One of Norway's greatest and most original landscape artists, Harald Sohlberg, finally gets a show in the UK. Born in 1869, he was a close contemporary of Edvard Munch (The Scream) and like Munch, outside the mainstream of contemporary art. The label of symbolist has fallen on Sohlberg's shoulders however much he might not have wanted it. His wild landcapes evoke the primordial: the harsh winters, remote cottages, and eerie water spirits of Nordic myth. This exhibition includes a work regarded as the national painting of Norway: Winter Night in the Mountains.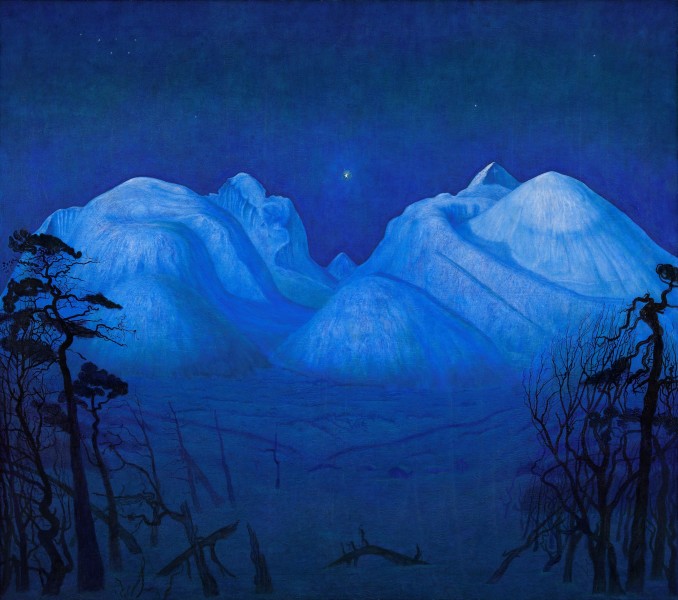 Side by side with the colourful canvases, climate change artist Mariele Neudecker has created an installation that responds to the work of Sohlberg in a 21st century context. Until 2nd June at Dulwich Picture Gallery, London , UK
Elizabeth Blackadder: From the Artist's Studio
Dame Elizabeth Blackadder, 87, has never courted fame yet she is something of a Living National Treasure. The first woman to be elected to both the Royal Academy and Scottish Royal Academy and she also carries the quaint title of Her Majesty's Painter and Limner in Scotland. It gives a clue to both her character and style: she has eschewed celebrity or the dictates of contemporary art world. Her most recognisable works are botanical studies in watercolour.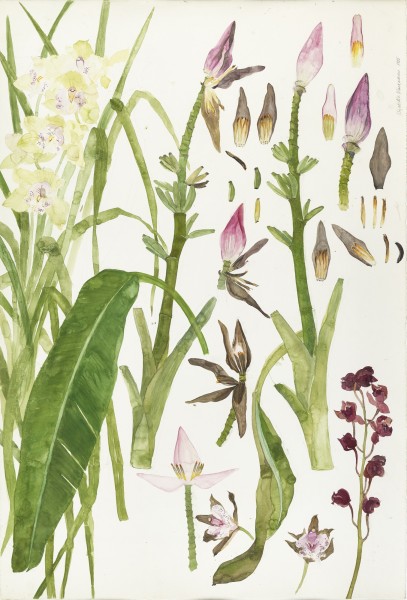 This exhibition of 30 works spans her entire career and reveals her skill not only with paint but as an etcher. "Her unrivalled powers of observation, stemming from a childhood interest in botany, give us her beautiful watercolours drawn from nature, skills which she honed in the 1980s, often with flowers from her own Edinburgh garden, " says curator Annabel Stansfeld. "The cats, which are observed with such empathy, but never sentimentality, find their own way in and out of her paintings as if exploring her studio." From 29th March to June 12th at the Willis Museum, Basingstoke, UK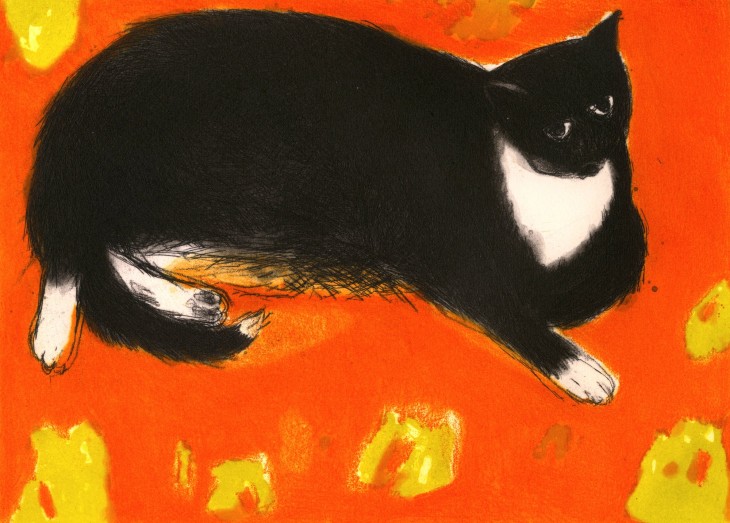 Painting Childhood: From Holbein to Freud
Compton Verney, the Grade I Georgian mansion in Warwickshire, is a delight to visit at any time of the year not least to enjoy the 120 acres of gardens designed by Capability Brown. It is also one of the UK's lesser known national art galleries, with six permanent collections and a packed programme of changing exhibitions as well as study days. This spring sees a show devoted to paintings of children that spans five centuries and featuring portraits, amusing genre scenes and touching 'fancy pictures'. Among the key loans are Van Dyck's The Five Eldest Children of Charles I (1637) from the Royal Collection.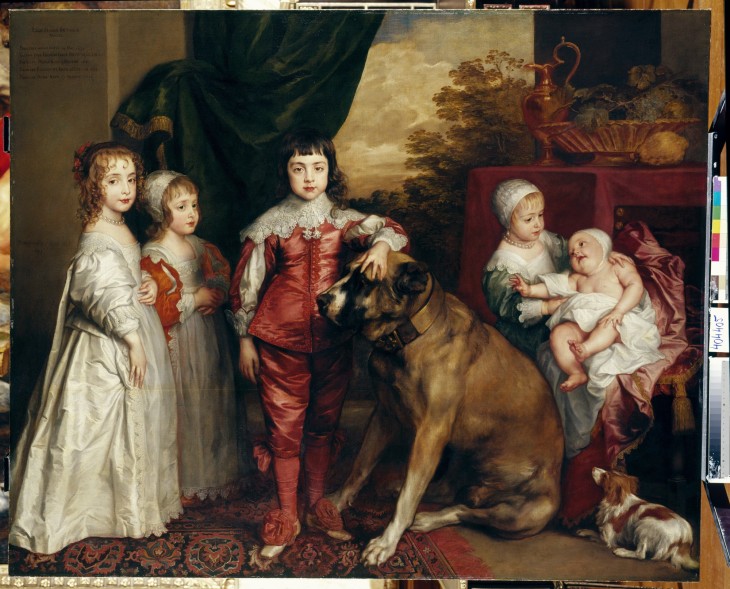 Other highlights include Hogarth's The Graham Children (1742) from the National Gallery, and best known of all, Millais' Bubbles (1886) from National Museums Liverpool. The last room is devoted to intimate portrayals of artists' own children, with works by Stanley Spencer, Louise Bourgeois, Jacob Epstein and Lucian Freud. Says Dr Amy Orrock, exhibition curator: "Childhood is a universal experience, shared by us all, yet these paintings are all unique in the places that they take us to and the insights that they provide." From 16th March to 16th June at Compton Verney, Warwickshire, UK
Drawing crowds in Paris
Paris, where the first Salon du Dessin was held in 1991, remains the preeminent market for this art form. This spring sees a week long celebration of drawing, with 39 exhibitors showing treasures including rare drawings by Egon Schiele and Gustav Klimt, alongside a host of exhibitions to mark the 500th anniversary of the death of Leonardo da Vinci. The Beaux-Arts de Paris, whose collection of 25,000 master drawings is the second largest in France, looks at Renaissance drawing workshops and will present 30 masterpieces including four drawings by Leonardo for the first time. The Fondation Custodia presents 200 drawings loaned by the Pushkin Museum in Moscow. The Musée du Montmartre shows the black drawings that established Georges Dorignac's reputation. Private visits can also be booked on the Salon du Dessin website (www.salondudessin.com) for tours of the Centre Pompidou's show of drawings for the set of The Magic Flute by Marc Chagall and the Bibliothèque Nationale de France's show of architectural drawings of theatres. Salon du Dessin, from March 27th to April 1st at the Palais Brongniart, Paris, France
Pierre Bonnard: the Colour of Memory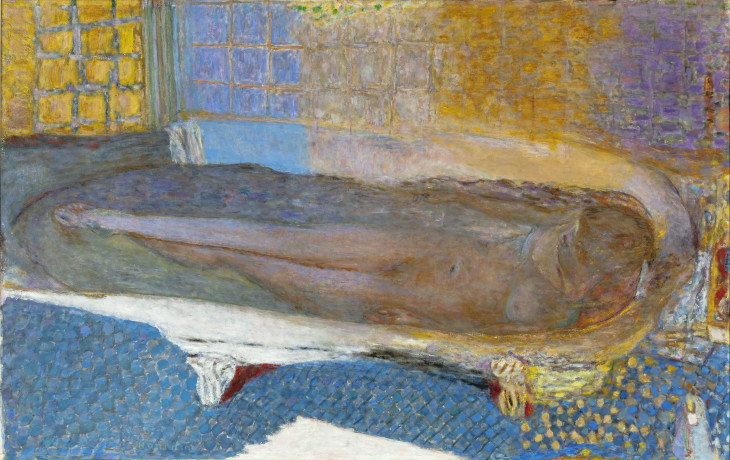 There are enough bathing scenes in the present show at Tate Modern of 200 works by Pierre Bonnard to leave you feeling squeaky clean. Suffused with light and colour, the endless domestic views of his wife Martha de Meligny dressing, undressing and washing and of sun kissed gardens and interiors, suggest a blissful married life. But far from it – Bonnard lived his quiet life in the centre of personal dramas and world conflicts. Having married beneath himself, his social life was difficult. Martha suffered from endless ailments, (or hypochondria) for which she was prescribed the baths. He had several affairs, one of which led to the suicide of his mistress. He lived through two world wars but seemed oddly detached from the horrors literally on his doorstep. His refusal to be drawn into the melting pot of new art movements led to the scorn of many contemporaries, notably Picasso, who labelled him "a decadent, at the end of an old idea." Were Bonnard painting today, his works might well be showing in a provincial gallery. But this odd, private little man is instead revered; for his subtle layering of colour that defies analysis; for the strange perspectives seen with a photographer's eye; for the air of mystery that pervades these ordinary domestic scenes. By all means enjoy the sunlit uplands of this show but don't be deceived by them. Until May 6 at Tate Modern, London, UK
Bruegel and Brussels
It is 450 years since the death of the greatest Flemish painter of the 16th century, Pieter Bruegel the Elder and Brussels, where he spent most of his life, is paying tribute to the master throughout 2019. His original – often startlingly surrealist – imagery made him popular with collectors from the very start, and his reputation was also boosted by the incredible depictions of peasant life like Children's Games, The Wedding Dance and The Land of Cockaigne which are internationally famous. After the Kunsthistorisches Museum of Vienna (which owns Hunters in the Snow) the Royal Museums of Fine Arts of Belgium have the largest collection of Bruegel's paintings. These treasures will be exhibited throughout 2019 while guided walks and animations will transport visitors to 16th century Brussels and to the places linked to Bruegel's life and times he lived in. Throughout 2019. For details of the theme year visit www.bruegel.brussels
Edward Burne-Jones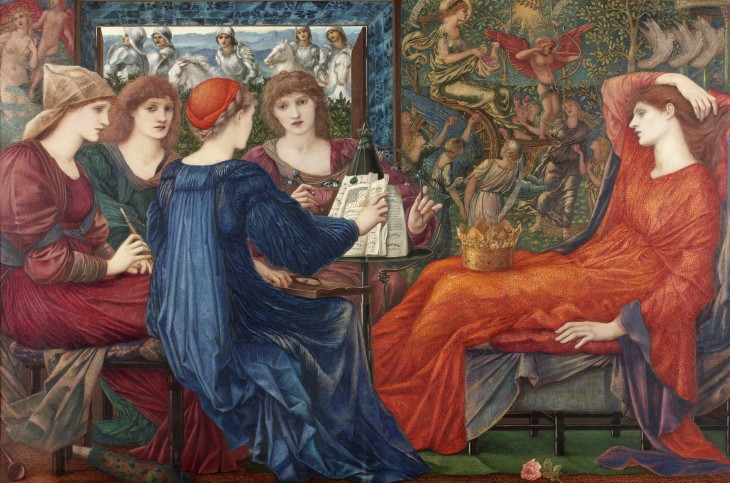 Escape from the grey skies of the Embankment for a moment if you are in London this winter and enter a dazzlingly colourful world of fantasy, fairy tales and legend. This is the land of Edward Burne-Jones, member of the Pre-Raphaelite Brotherhood and pioneer of symbolism, a place populated by Classical heroes, Biblical angels and Sleeping Beauties. Bringing together 150 works in many media, it charts the rise of an outsider to the most internationally recognized British artist of his day. Like his friend and associate William Morris, Burne-Jones rejected the materialism of the industrial revolution and created an enchanted parallel universe. With little early formal training in art, Burne-Jones began his career as a church decorator and went on to develop his instantly recognizable personal style that is somewhere between art and decoration. Considered one of the greatest draughtsman of the 19th century, Burne-Jones's remarkable drawings such as Desiderium 1873 are also showcased. Until 24th February at Tate Britain, London, UK
Fernand Leger: New Times, New Pleasures
This comprehensive survey provides a chance to see works by Fernand Leger which have never travelled to Britain before alongside his drawings, murals, films, books and textiles. Born into a modest farming family, Leger was a socialist and for him, art was a means of elevating the quality of life for the working man. Like his close friend William Morris, he believed that art should be enjoyed by all, not just society's privileged elite. Ironically today, only that very sector can afford his works; at a Christie's 2017 auction, a work by Leger sold for $65 million, tripling the previous record for the artist which had been set just four years earlier Leger's early training as an architect permeates his work and he saw beauty in construction work – indeed he enjoyed everything about the rhythms of modern life. He made a unique contribution to Cubism and also created a series of huge photomurals – one of which is on show here for the first time in the UK. There is something tragically prophetic and contemporary in the catalogue description of this work: "Against a backdrop of economic depression and the rise of totalitarianism in Europe, the mural promotes rural life, urging nations to work collectively to forge a better future for all." Until 17th March at Tate Liverpool, Liverpool, UK