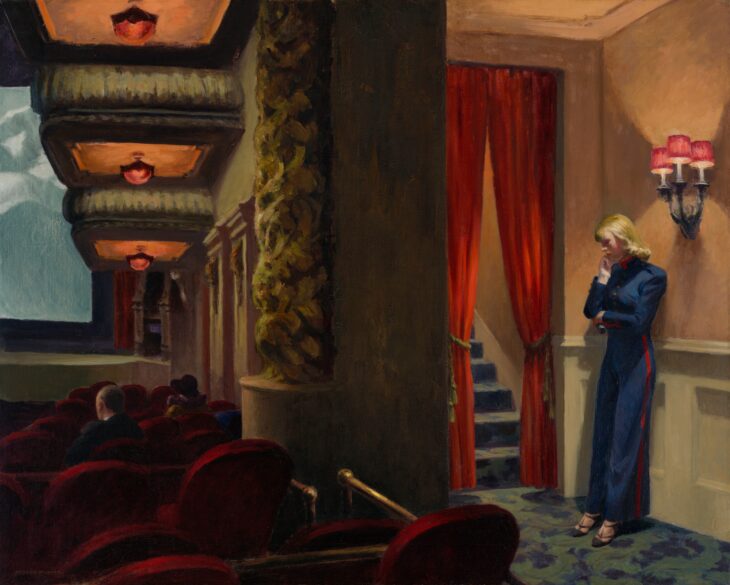 EDWARD HOPPER'S NEW YORK
Mention Edward Hopper and nighttime images of gas stations and American diners spring to mind. While they are certainly iconic and typical of Hopper, much of his work is rather less well known. The Whitney Museum sets that right with a major new exhibition documenting Hopper's love affair with the Big Apple.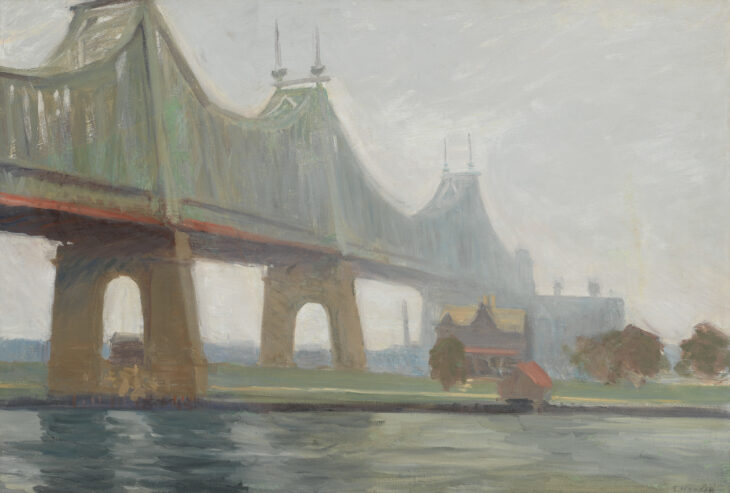 New York was "the American city that I know best and like most," said Hopper, who lived here from 1908–67. These six decades saw endless development in the metropolis and a booming population. Yet Hopper's paintings are strangely depopulated and nowhere do we see landmark sites such as the Empire State Building or Statue of Liberty. The impression Hopper's obscure corners, empty squares and depopulated factories leave is of intensely personal dreamscapes, those unsettling places that take root in the imagination at night.
As a child, Hopper's family had often taken him on visits to New York from their nearby home in Nyack. On Broadway he was introduced to the theatre, which offered so much in the way of painterly subject matter to many artists. His livelong love of the theatre as well as cinema, reflected here in several works, was shared by his wife Josephine Nivison and the young couple often visited the latest shows after they settled in New York for good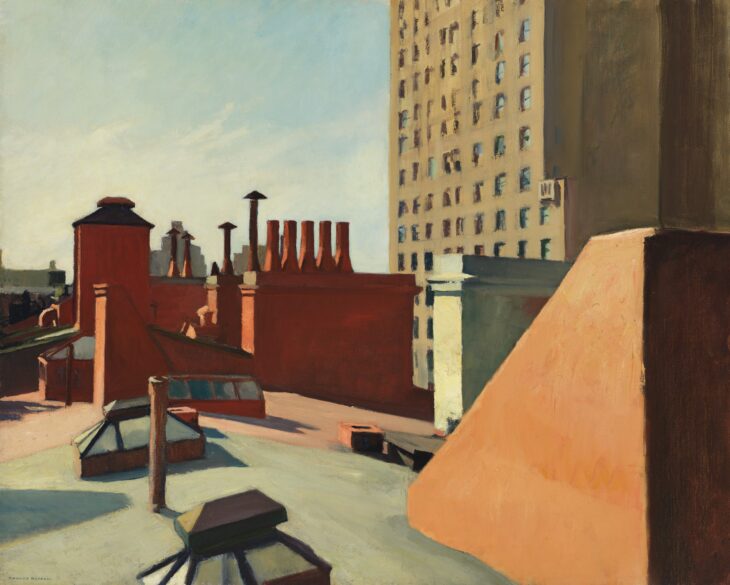 Beginning as a commercial illustrator, Hopper ended his days lauded as among the greats of American painters – his 1950 retrospective at the Whitney Museum was warmly received and Life magazine anointed him the "major American artist of the century." By exploring the artist's work through the lens of New York, the exhibition offers a fresh take on this formidable figure.
Until 5th March at the Whitney Museum, New York, USA
Making Modernism
Behind the bright canvases and graphic drawings on show at the Royal Academy's show of seven 19th century German artists lurks the dark question: why has it taken 100 years for women to find a place in art history?
Built around the work of seven female artists working in Germany in the early 20th century, Paula Modersohn-Becker, Käthe Kollwitz, Gabriele Münter, Marianne Werefkin, Erma Bossi, Ottilie Reylaender and Jacoba van Heemskerck, they were at a disadvantage as ladies were not permitted to enter the academies in Germany.
In addressing the roles that they were they offered in a theatre designed for men, the curators have chosen four main themes – Ourselves and Others, The Century of the Child, Sites of Intimacy, and City and Country.
In a well argued essay available on the website writer Rachel Cusk looks at the dilemmas facing such women – should they adopt the role of a man and the subjects that were deemed worthy of the big prizes or should they somehow try and break that mould?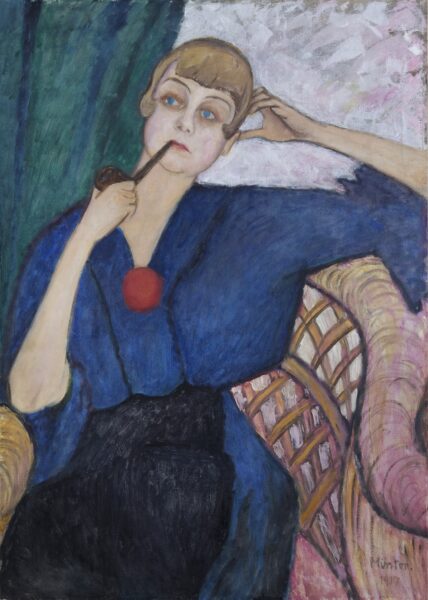 Modersohn-Becker – arguably the best know of the seven shown here – chose to break with convention and notoriously was the first woman known to have painted nudes, often using herself as the model.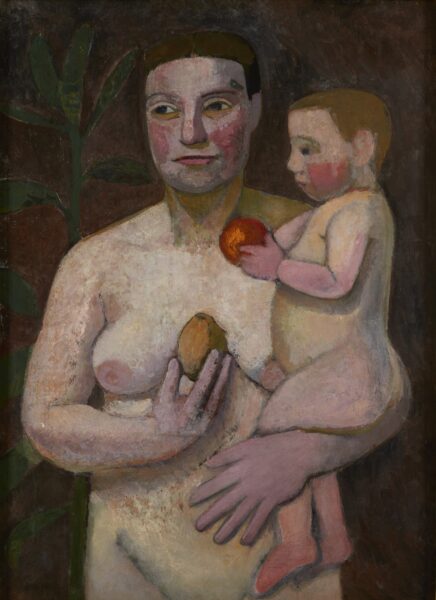 The dilemma of what path to take was greatest for a woman married to a famous artist – Lee Krasner was notoriously overshadowed by Jackson Pollock. In this show we find Gabriele Münter documented her domestic life with the famed Russian artist Wassily Kandinsky – here he is in bed, at table, slippers at the ready – a constant reminder perhaps of her subordinate role.
The most arresting works are not paintings but Käthe Kollwitz's prints and drawings including examples of her "Secreta" or secret drawings which were never shown or sold during her lifetime. We are fortunate that they were not actually destroyed: Kaiser Wilhelm II called it "gutter" art.
This small exhibition tackles a huge subject. It has met with mixed success – a more comprehensive exhibition awaits.
Until 12th February at the Royal Academy, London, UK
Paul Klee and the Secrets of Nature
This exhibition of works by the well known Paul Klee has a singularly unusual element – it includes a number of female artist whose careers were "silenced by the official account of the history of art" – in other words, not being men, their work was ignored. To set this right a selection of works by Gabriele Münter, Emma Kunz, and Maruja Mallo are squeezed in the general framework of Klee and Nature. An installation by Sandra Knecht rounds off the exhibition's chronological tour of Klee's life.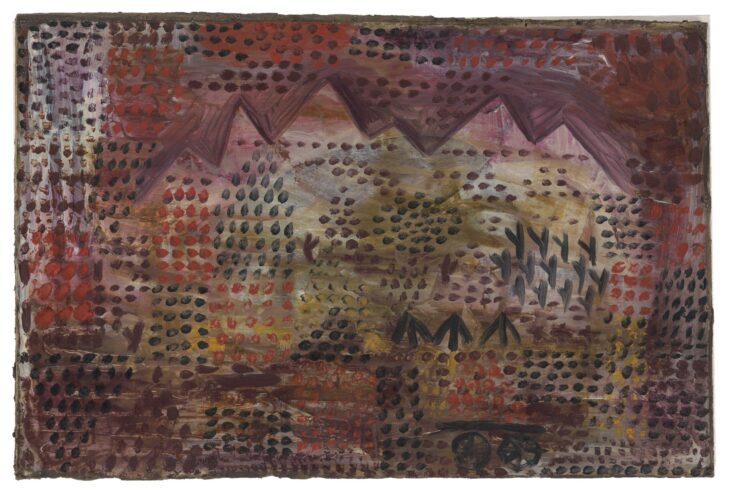 The show examines among other things the impact of the First World War on the German Swiss artist, plus his increasingly theoretical approach to art thanks to his years as a teacher at the Bauhaus.
There are more 200 pieces, among which are paintings, drawings, documents and pedagogic sketchbooks in which we find the often misquoted advice to students to "take a line for a walk. "
As to nature, like most artists Klee found it an endless source of inspiration and a refuge from the ills of modern life – he survived conscription to the military in the First War and died just after the start of the next great conflict in 1940, in his own epitaph: "Slightly closer to the heart of creation than usual, but still not close enough."
Until 12th February at the Fundació Joan Miró, Barcelona, Spain
Denis Wirth-Miller: Landscapes & Beasts
Sometimes artists lives are even more fascinating than their work and Denis Wirth-Miller (1915-2010) is sadly among them. His bleak but wonderful landscapes, on show at Firstsite Colchester, don't reproduce very well and this has not helped a reputation sabotaged by the influential art critic David Sylvester who called him a pale imitator of Francis Bacon (whom Sylvester promoted relentlessly).
But what a story unfolds as we enter the world of reed beds and marshes which Wirth-Miller painted in later life and which are on show here. It is the tragic tale of an artist who had no formal training until he was 30, yet is said to have worked on Bacon's paintings. It is the record of a drunken debaucher who landed up in prison for gross indecency and a queer who punched Sylvester in the face for an acid review.
It is also the legacy of the man who introduced Bacon to Eadweard Muybridge, the photographer whose studies of men and animals in action had a profound effect on the work of Bacon.
This clearly is not someone who should be confined to the dustbin of art history and now Firstsite has restituted their 'local hero' who lived at Wivenhoe, just a few miles away from the Colchester home of this award winning young museum. Frances Bacon, who was the most regular visitor to Wivenhoe, was later to stab Wirth-Miller in the back, scuppering his art career.
Born in Folkestone, Kent, to an impoverished German hotelier and his English wife, Wirth-Miller started life as a textile designer before moving to London and joining the Fitzrovia scene where he met Richard Chopping – the illustrator of Fleming's James Bond books – and started a famously rancorous relationship with him.
After enrolling late in life in art school, Wirth-Miller began to paint mainly landscapes on his doorstep. Weather plays a significant role in these works, often darkly brooding or subject to pelting rain and howling winds. The energy is palpable – a dynamism also apparent in Wirth-Miller's studies of dogs and other 'beasts' which owe a huge debt to the photos of Muybridge.
When Bacon condemned as 'rubbish' the works his friend showed at the Wivenhoe Arts Club, Wirth-Miller closed the exhibition, destroyed most of the art and hardly ever painted again.
Firstsite's survey of some 100 surviving works (which makes mockery of Lucian Freud's nasty nickname Denis Worth-Nothing) has been widely applauded. If the artist had had such a good reception in his day, there might have be many more works to admire.
Until 22nd January at Firstsite, Colchester, Essex, UK
Africa Fashion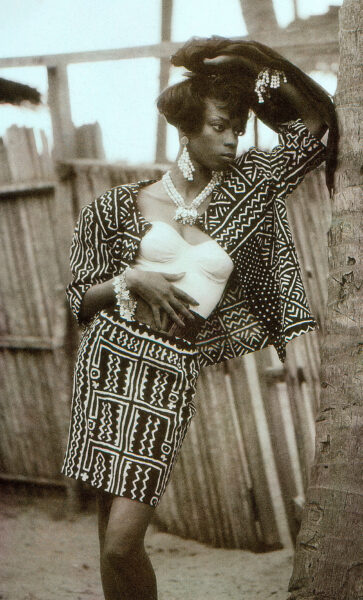 This wide ranging exhibition at the V&A views a continent through the lens of its fashion, using textiles, clothes, design, film and photography from the 1960s to the present day. It is a marvellous journey through materials both natural and synthetic, including cottons, beads, metal, silk ribbons, raffia, grasses, mud and organza – proving that there is nothing African textile artists cannot fashion into a useful – or sometimes purely ornamental – outfit. If there is a black power message, it's quite muted, we are not expected to confront the ills of colonialism directly, more to admire the inventiveness that defied it.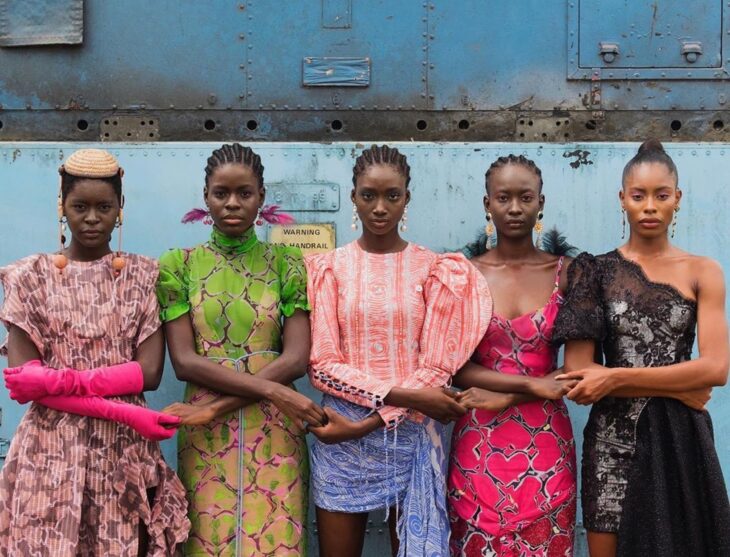 The work of Bubu Ogisi, who founded the women's wear brand IAMSIGO, is an example. Her hand crafted pieces are helping preserve ancient techniques while also promoing the use of ecologically sustainable materials.
Such African designers – Sarah Diouf is another example whose work is showing at the V&A – are internationally renowned but there's also a nice nod to the many indigenous and anonymous artists of Africa, usually women, with a glass case called the Unnamed Dressmaker in which classic weavings such as the kente cloth find a place.
Until 16th April at the Victoria & Albert Museum, London, UK
SHOW E
Jainism
The first exhibition for 50 years in Switzerland devoted to Jainism is a curious affair which mingles masterpieces of art with talks and films about the subject. Jainism as a religion has never 'caught on' in the West in the same way as Buddhism has done. This show tells us why. The core ethical values which underpin the religion – including non-violence and universal tolerance – are not the problem. It is the renunciation of material possessions that conflicts with the Western way of life in the 21st century.
Yet Jains still operate in all areas of life, including business and here at the Rietberg films and interviews document Jains from all spheres of life; religious leader as well as laypersons active in business, culture, and politics.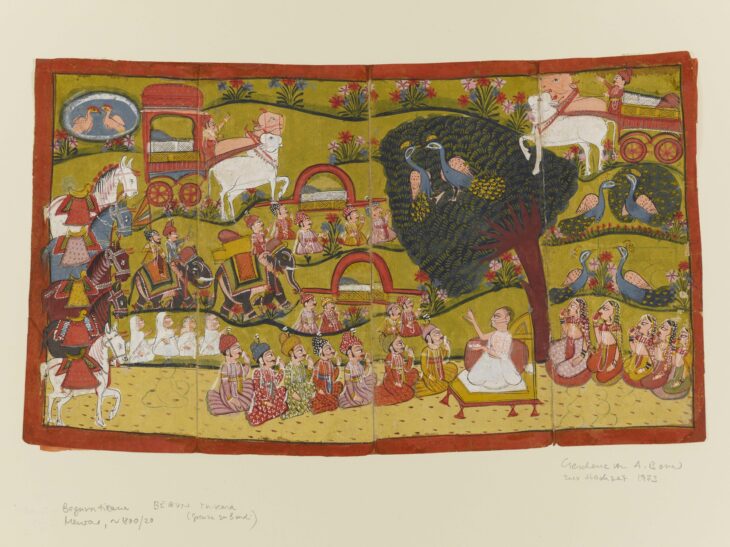 Visitors may also participate in the Game of Questions which explores not only ethics but climate change and the topic of sustainability, encouraging them to change perspectives and explore new paths. It is an interesting new approach to the traditional exhibition model. With the approaching climate apocalypse, will more Westerners delve into the world of Jainism to save the planet?
Until 30th April at the Rietberg Museum, Zurich, Switzerland
Winter Decorative Arts & Textiles Fair
Eye-catching and highly collectible objects for the mercantile world are featured at the Winter Decorative Arts & Textiles Fair this month: look for carved and painted shop signs, beautifully decorated pharmacy jars, presentation packaging, commercial display cabinets, seed and ironmongers drawers, hatter's signs, shop fitments and advertising ephemera for sale. More than 130 exhibitors on the ground floor of the marquee will also be showing fine and formal antiques and 20th century design pieces while upstairs , on the mezzanine, the London Antique Rug & Textile Art Fair (LARTA) is a cornucopia of textile delights from across the world.
From 24th to 29th January in Battersea Park, London, UK