Picasso on the Beach
One of Peggy Guggenheim's favourite works of art forms the core of this show themed on beach works by the great Picasso. The star of the exhibition is On The Beach (La Baignade) shown next to its preparatory sketch for the first time and astonishingly executed on the same day. Picasso was notorious for working very fast, indeed some critics have found that the lack of preparation is leading to some paintings showing signs of premature ageing, mainly flaking. .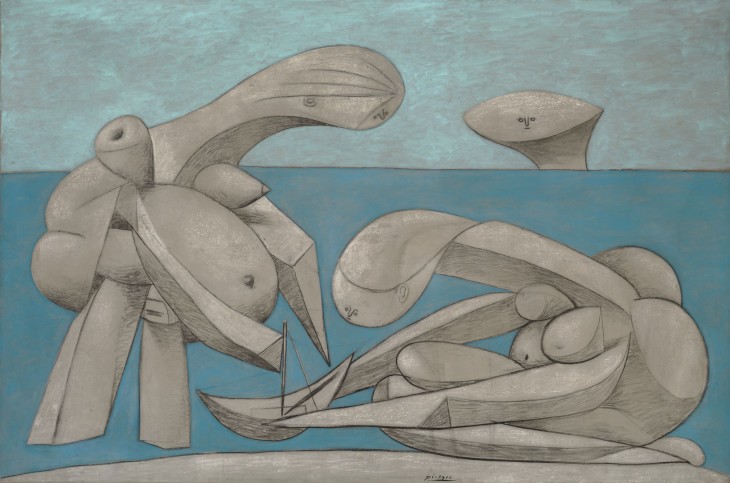 The works on show here also prove the truth of a comment I once heard from a Malaga-based artist who knew Picasso: "He was very popular with the art dealers because he could churn out works very fast so they could always rely on having a steady stream of product to sell!" This exhibition is part of Picasso-Méditerranée initiative in which 60 institutions offer a journey across the Mediterranean to the places that inspired Picasso.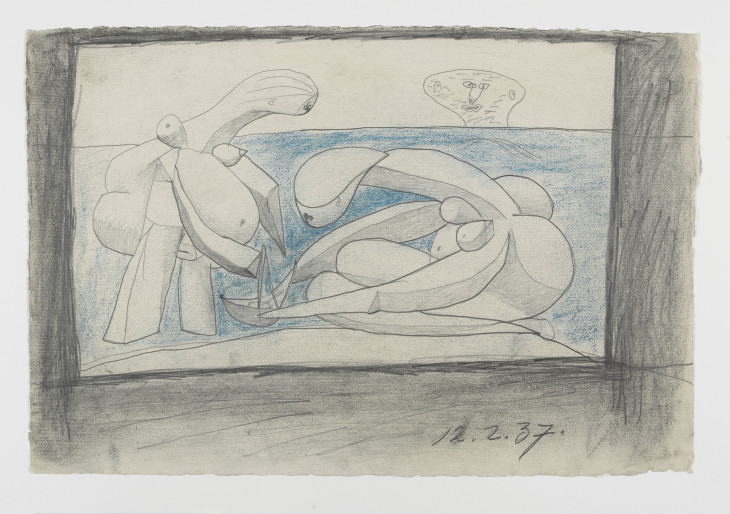 Until 17th January at the Peggy Guggenheim Collection, Venice, Italy
Leon Golub, H.C. Westermann and Famous Artist from Chicago
This highly unusual and major show is devoted to a generation of artists formed in Chicago in the aftermath of World War II. The curator Germano Celant has brought together a mass of figurative and political works generated in Chicago's art schools but rejected by mainstream New Yorkers obsessed with action painting, abstract expressionism and minimalism. The most shocking of those on show here in the Nord and Sud galleries are the huge acrylics by Golub denouncing the brutality of war, racism, torture and violence.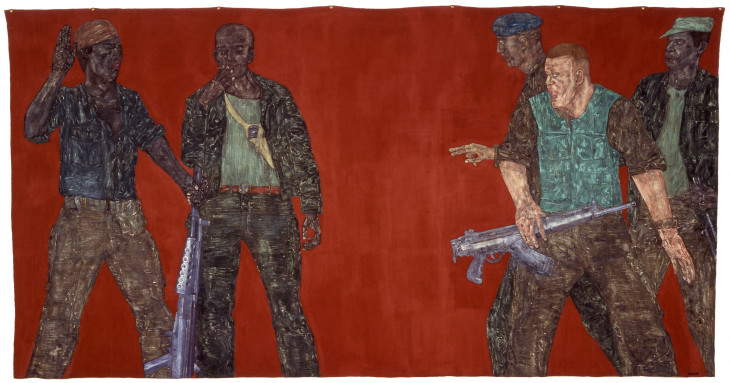 Westermann, a highly influential sculptor and printmaker who excoriated militarism and materialism, became a key figure for later artists from Chicago, the most notorious being Jeff Koons, a one year wonder at the Art Institute of Chicago. Koons, a notorious 'borrower', appropriated figures from Westermann's print Dance of Death for one of his own bizarre works Elvis but got away with the snatch.
Until 5th January at the Fondazione Prada, Milan, Italy
Louvre Abu Dhabi opens
It has been a decade coming but those who said the Louvre's Middle East outpost would never open have been silenced. I first saw the stunning models of the design by French architect Jean Nouvel in 2007. At that time there were to be five museums on Saadiyat Island but at least two have been shelved, including almost certainly the Frank Gehry Guggenheim. The new Louvre, built on the £18billion manmade island that boasts a Ferrari World theme park as its other main attraction, will open in November. Buying the Louvre's name cost Abu Dhabi £663million and today that looks like a good deal: the Louvre branding is estimated to be worth £344million for the duration of the contract. A series of exhibitions and loans will see masterpieces from the Paris HQ brought before an audience with a growing appetite for, and appreciation of, art and culture.
Opens end November on Saadiyat Island, Abu Dhabi
Basquiat: Boom for Real
The first retrospective of the work of Jean-Michel Basquiat is the hottest show in the London winter season. Don't miss it. The tragic life of Basquiat, genius street artist and now the most expensive American artist of all times (recently a work sold for $110,000) reads like the biography of the archetypal tragic artist. Established by 20, close friend of Warhol and even faster than Andy at churning out works – how the dealers loved him for that – he was dead at 27 from an overdose of the very stuff that fuelled this manic output. Gagosian, who was just establishing as a gallerist, says in the film of his life that he was often paid in "dollars and drugs" but of course not by him. The exhibition has plenty of photos and footage of Basquiat's lifestyle, hanging out with Warhol (they practically invented the selfie) but above all that you should go for the boundless energy, raw primitive agony and dark genius of the actual works of art.
Until 28th January at the Barbican Art Gallery, London. Reflections: Van Eyck and the Pre-Raphaelites
This certainly is an odd marriage; not that of the enigmatic portrait of a pregnant woman and a Bruges merchant but an attempt to marry a 15th century Dutch realist with the 19th century English brotherhood of symbolist painters whose figurehead was Dante Gabrielle Rossetti. The argument is that the Arnolfini Portrait, which the National Gallery acquired in 1842, could have been seen by Rossetti, Sir John Everett Millais and William Holman Hunt, all Royal Academy students at the time of the purchase, and may have inspired their search for a purer, more formal style of painting (hence 'pre-Raphael').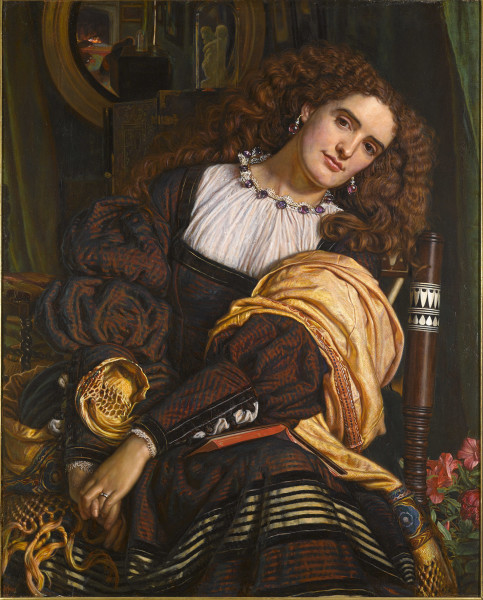 There are however no letters or other documents which substantiate the claim. Much is made of the convex mirror ( a fashionable accessory at the time) with examples of other work with mirrors on show. We no longer have Brian Sewell to shred the argument but critic Jonathan Jones steps into his shoes: "We might as well be seeing the Arnofini Portrait next to Damien Hirst, Beryl Cook or Quentin Blake as the claustrophobic 19th-century daubs gathered here from the museum store rooms where many of them rightfully belong," he rages. Clearly one for the shortlist!
Until 2nd April at the National Gallery, London
Modigliani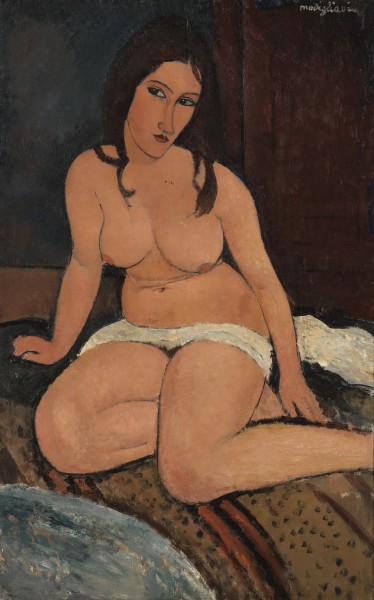 I remember stepping out from the huge Modigliani exhibition in Paris in 1984 and finding the street full of people with elongated limbs and blank almond-shaped eyes. Momentarily, I was able to see through the eyes of Modigiani – the effect of the repletion of his unique style on my synapses. Amedeo Modigliani is another of the 'cursed genius' with a show in London this winter. The comparisons are hard to resist. Like Basquiat, had a prolific output – as many as 100 drawings in a day – fell into drug abuse and died young. Both painters' works now make millions – the only difference being that Modigliani died destitute while Basquiat was rich by 25. Some of Modigliani's best known works are the nudes executed in Paris where he held his only solo exhibition. It is a famous story, for the nudes scandalised society and the show was closed on the opening day.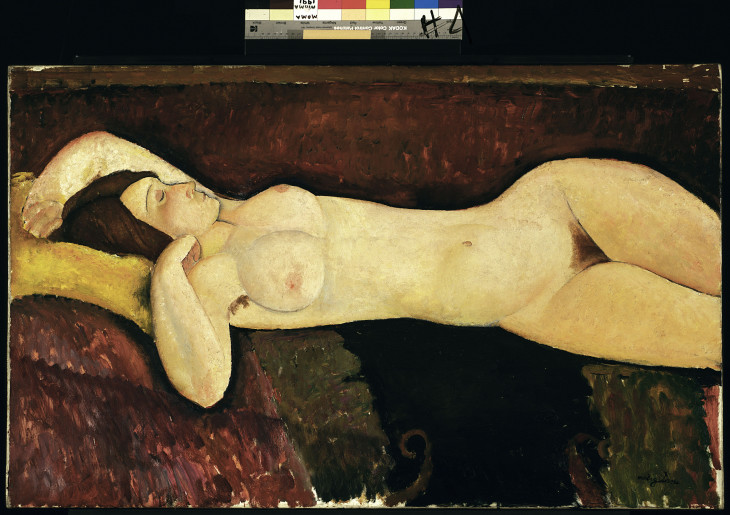 Two years, ago one of the nudes from that event $170,405,000 at auction. Today it seems inconceivable that such elegant and beautiful works could have excited anything but admiration and pleasure.
From 23rd November until 2nd April at Tate Modern, London.
Ruth Gruber: Photojournalist
If you are heading to Art Basel Miami this year, try and take in one of the headline shows of the season. Devoted to the remarkable Ruth Gruber, who passed away recently aged 105, it documents the milestones of her monumental life in photos. As the first correspondent granted permission to travel throughout the Soviet Arctic and Siberian gulag in the 1930s, Gruber documented frontier life in the Arctic and the unique role of women here. At 30, she was appointed US Field Representative to the Alaska Territory, travelled throughout the vast and largely unknown expanse documenting its people and sending back reports on the territory. In 1944, Gruber accepted an assignment to bring Jewish refugees to America on board the Henry Gibbins, despite the dangers and from that point on devoted her life to causes connected with displaced peoples including from Yemen, Iraq, Romania, Morocco, Tunisia, and Ethiopia.
Until 7th January at The Jewish Museum of Florida-FIU, Miami Beach
Credits
Pablo Picasso On the Beach, 1937, Peggy Guggenheim Collection, Venice
Pablo Picasso Preparatory sketch for On the Beach, 1937, Peggy Guggenheim Collection, Venice. Pablo Picasso with his dog, Mougins, 1936, Man Ray Trust.
The Famous Artists from Chicago Photograph Image: © John Bohannan. Courtesy Jim Nutt
Leon Golub, Mercenaries, 1980. Courtesy the Estate of Leon Golub and Hauser & Wirth
Louvre Abu Dhabi. Photo Mohamed Somji
Amedeo Modigliani Seated Nude, 1917, Oil on canvas, Royal Museum of Fine Arts Antwerp. Photo Hugo Maertens
Amedeo Modigliani, Reclining Nude, 1919, Oil on canvas, Museum of Modern Art, New York
Eklutna woman reading LIFE magazine, Hooper Bay, Alaska Territory, 1941. Estate of Ruth Gruber, courtesy International Center of Photography
Jean-Michel Basquiat, Hollywood Africans, 1983. Courtesy Whitney Museum of American Art. © Estate of Jean-Michel Basquiat/ Artists Rights Society (ARS), New York/ ADAGP, Paris. Licensed by Artestar, New York..
Installation view Barbican.Jean-Michel Basquiat. Dos Cabezas, 1982. Private collection. © The Estate of Jean-Michel Basquiat. Licensed by Artestar, New York
Installation view Barbican. Jean-Michel Basquiat, Untitled, 1982. Courtesy Museum Boijmans Van Beuningen, Rotterdam. © The Estate of Jean-Michel Basquiat. Licensed by Artestar, New York.